In-depth security news and investigation
Updated: 1 hour 11 min ago
Payroll software provider Apex Human Capital Management suffered a ransomware attack this week that severed payroll management services for hundreds of the company's customers for nearly three days. Faced with the threat of an extended outage, Apex chose to pay the ransom demand and begin the process of restoring service to customers.
Roswell, Ga. based Apex HCM is a cloud-based payroll software company that serves some 350 payroll service bureaus that in turn provide payroll services to small and mid-sized businesses. At 4 a.m. on Tuesday, Feb. 19, Apex was alerted that its systems had been infected with a destructive strain of ransomware that encrypts computer files and demands payment for a digital key needed to unscramble the data.
The company quickly took all of its systems offline, and began notifying customers that it was trying to remediate a security threat. Over a series of bi-hourly updates, Apex kept estimating that it expected to restore service in a few hours, only to have to walk back those estimates almost every other time a new customer update went out.
Contacted Wednesday by an Apex client who was nervous about being unable to make this week's payroll for his clients, KrebsOnSecurity reached out to Apex for comment. Ian Oxman, the company's chief marketing officer, said the ransomware never touched customer data, but instead encrypted and disrupted everything in the company's computer systems and at its off-site disaster recovery systems.
"We had just recently completed a pretty state-of-the-art disaster recovery plan off-site out and of state that was mirroring our live system," Oxman said. "But when the ransomware bomb went off, not only did it go through and infect our own network, it was then immediately picked up in our disaster recovery site, which made switching over to that site unusable."
Oxman said Apex hired two outside security firms, and by Feb. 20 the consensus among all three was that paying the ransom was the fastest way to get back online. The company declined to specify how much was paid or what strain of ransomware was responsible for the attack.
"We paid the ransom, and it sucked," Oxman said. "In respect for our clients who needed to get their businesses up and running that was going to be obviously the quicker path."
Unfortunately for Apex, paying up didn't completely solve its problems. For one thing, Oxman said, the decryption key they were given after paying the ransom didn't work exactly as promised. Instead of restoring all files and folders to their pre-encrypted state, the decryption process broke countless file directories and rendered many executable files inoperable — causing even more delays.
"When they encrypt the data, that happens really fast," he said. "When they gave us the keys to decrypt it, things didn't go quite as cleanly."
One of Apex's older business units — ACA OnDemand — is still offline, but the company is now offering to move customers on that platform over to newer (and more expensive) software-as-a-service systems, and to train those customers on how to use them.
Experts say attacks like the one against Apex HCM are playing out across the world every day, and have turned into a billion-dollar business for cyber thieves. The biggest group of victims are professional services firms, according to a study by NTT Security.
Ransomware victims perhaps in the toughest spot include those offering cloud data hosting and software-as-service, as these businesses are completely unable to serve their customers while a ransomware infestation is active.
The FBI and multiple security firms have advised victims not to pay any ransom demands, as doing so just encourages the attackers and in any case may not result in actually regaining access to encrypted files.
In practice, however, many cybersecurity consulting firms are quietly urging their customers that paying up is the fastest route back to business-as-usual. It's not hard to see why: Having customer data ransomed or stolen can spell the end of cloud-based business, but just being down for more than a few days can often be just as devastating. As a result, the temptation to simply pay up may become stronger with each passing day — even if the only thing being ransomed is a bunch of desktops and servers.
On Christmas Eve 2018, cloud data hosting firm Dataresolution.net was hit with the Ryuk strain of ransomware. More than a week later on Jan. 2, 2019, this blog reported that the company — which had chosen not to pay the ransom and instead restore everything from backups — was still struggling to bring its systems back online.
One dataresolution.net client said the company didn't succeed in rebuilding its server or turning over his company's database stored there until Jan. 9 — 16 days after the ransomware outbreak.
"From my understanding it was another two weeks until all of the clients were rebuilt," said the customer, who works as an IT manager at a benefits management firm that used dataresolution.net and its now transitioning away from the company. "The vendor never provided any analysis on how it occurred and how they would prevent it from occurring again.  Other than different antivirus and not allowing RDP connections to the internet they don't seem to have put any additional safeguards in place. They did not proactively offer any compensation for the outage. I am in the process of documenting the business financial impact to request a 'credit' at the same time as planning on bringing the system in house."
For its part, Apex is still trying to determine how the ransomware got into its systems.
"That's where this forensic analysis is still going on," Oxman said. "For us, the emergency response team literally worked 48 hours straight getting our systems back up, and secondary to that is now trying to figure out what the hell happened and how do we prevent this from happening again. We had just completed a security audit and we were feeling pretty good. Obviously, these cyber hackers found a way in, but I'm sure that's how every company feels that gets hit."
Here are a few tips for preventing and dealing with ransomware attacks:
-Patch, early and often: Many ransomware attacks leverage known security flaws in servers and desktops.
-Disable RDP: Short for Remote Desktop Protocol, this feature of Windows allows a system to be remotely administered over the Internet. A ridiculous number of businesses — particularly healthcare providers — get hit with ransomware because they leave RDP open to the Internet and secured with easy-to-guess passwords. And there are a number of criminal services that sell access to brute-forced RDP installations.
-Filter all email: Invest in security systems that can block executable files at the email gateway.
-Isolate mission-critical systems and data: This can be harder than it sounds. It may be worth hiring a competent security firm to make sure this is done right.
-Backup key files and databases: Bear in mind that ransomware can encrypt any network or cloud-based files or folders that are mapped and have been assigned a drive letter. Backing up to a secondary system that is not assigned a drive letter or is disconnected when it's not backing up data is key. The old "3-2-1" backup rule comes into play here: Wherever possible, keep three backups of your data, on two different storage types, with at least one backup offsite.
-Disable macros in Microsoft Office: Block external content in Office files. Educate users that ransomware very often succeeds only when a user opens Office file attachment sent via email and manually enables Macros.
-Enable controlled folder access: Create rules to disallow the running of executable files in Windows from local user profile folders (App Data, Local App Data, ProgramData, Temp, etc.)
Sites like nomoreransom.org distribute free tools and tutorials that can help some ransomware victims recover files without paying a ransom demand, but those tools often only work with specific versions of a particular ransomware strain.
Fraud investigators say they've uncovered a sophisticated new breed of credit card skimmers being installed at gas pumps that is capable of relaying stolen card data via mobile text message, thereby enabling fraudsters to collect it from anywhere in the world. One interesting component of this criminal innovation is a small cellphone and Bluetooth-enabled device hidden inside the contactless payment terminal of the pump, which appears to act as a Bluetooth hub that wirelessly gathers card data from multiple compromised pumps at a given filling station.
A memo sent by the U.S. Secret Service last week to its various field offices said the agency recently was alerted to the discovery of a fraud device made to fit underneath the plastic cap for the contactless payment terminal attached to the exterior of a fuel pump. Here's a look at the back side of that unwelcome parasite: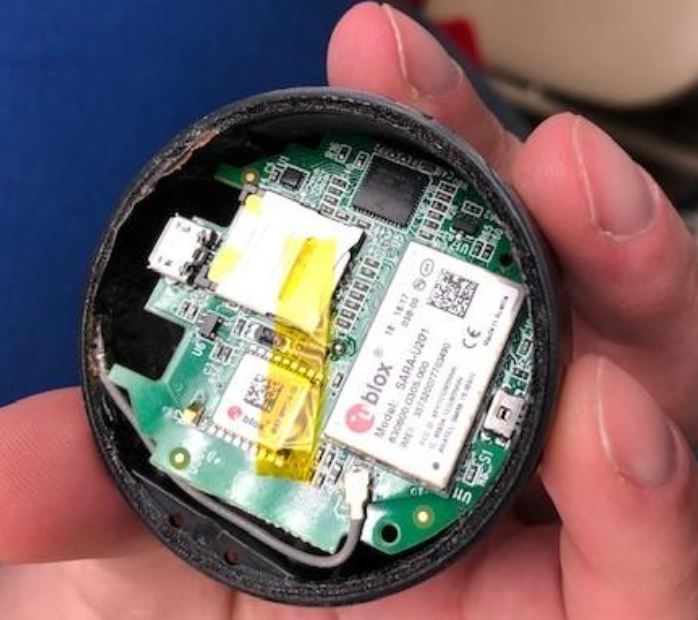 As we can see from the above image, it includes GSM mobile phone components, allowing it to send stolen card data wirelessly via text message. In contrast, most modern pump skimmers transmit stolen card data to the thieves via Bluetooth. The white rectangular module on the right is the mobile phone component; the much smaller, square module below and to the left is built to handle Bluetooth communications.
Bluetooth requires the fraudsters who placed the devices to return to the scene of the crime periodically and download the stolen data with a mobile device or laptop. Using SMS-based skimmers, the fraudsters never need to take that risk and can receive the stolen card data in real-time from anywhere there is mobile phone service.
Gas stations are beginning to implement contactless payments at the pump to go along with traditional magnetic stripe and chip card-based payments. These contactless payments use a technology called "near field communication," or NFC, which exchanges wireless signals when an NFC-enabled card or mobile device is held closely to a point-of-sale device.
Because this tiny round device was found hidden inside of an NFC card reader on the outside of a gas pump, investigators said they initially thought it might have been designed to somehow siphon or interfere with data being transmitted by contactless payment cards. But this theory was quickly discarded, as contactless cards include security features which render data that might be intercepted largely useless for future transactions (or at least hardly worth the up-front investment, craftsmanship and risk it takes to deploy such skimming devices).
Mark Carl is chief executive officer at ControlScan, a company in Alpharetta, Ga. that helps merchants secure their payment card technology. Carl's company is the one that found the skimmer and alerted local authorities, which in turn alerted the Secret Service.
Carl said his team is still trying to reverse engineer the device found inside the NFC reader at the pump, but that so far it appears its purpose is to act as a Bluetooth communications hub for other skimming devices found at the scene. Turns out, investigators also discovered traditional Bluetooth-based skimming devices attached to the power and networking cables inside various pumps at the compromised filling station.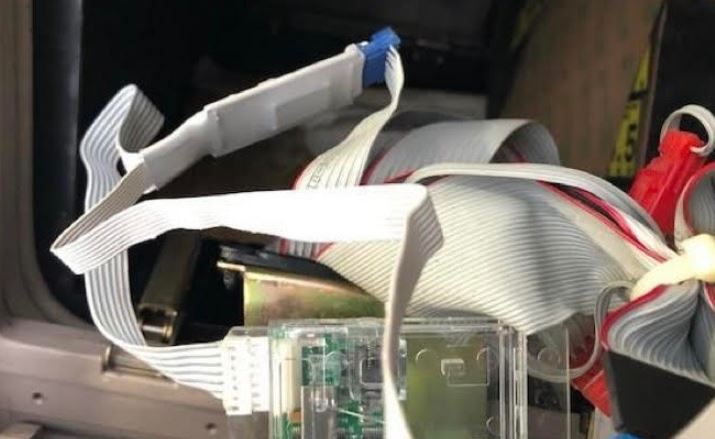 "Based on the chipsets, and that there were other traditional skimmers in other pumps at the site, we believe this device [the round gizmo found inside the NFC reader] is likely the hub for a Bluetooth local area network," Carl told KrebsOnSecurity. "So an attacker can install multiple skimmers in different pumps, feed all of that data to this device with Bluetooth, and then relay it all via the cellular connection."
Many readers have asked if they should be scanning fuel pumps with their smart phones using the built-in Bluetooth component or Android mobile app like Skimmer Scanner. If this seems like fun, then by all means go right ahead, but I wouldn't count on these methods failing to detect a Bluetooth skimmer at the pump as proof that the pump is skimmer-free.
For one thing, the skimmer detection app detects only one type of Bluetooth module used in these schemes (HC-05), and there are least three other types commonly found embedded in compromised pumps (HC-06, HC-08 and FCD_1608). And trying to do this with your mobile phone alone is not likely to yield any more conclusive results.
Better advice is to patronize filling stations that have upgraded their pumps in the past few years to add more digital and physical security features. As I wrote in last summer's "How to Avoid Card Skimmers at the Pump," newer and more secure pumps typically feature a horizontal card acceptance slot along with a raised metallic keypad — much like a traditional payphone keypad.
One other tip from that story: Some pump skimming devices are capable of stealing debit card PINs as well, so it's a good idea to avoid paying with a debit card at the pump. Armed with your PIN and debit card data, thieves can clone the card and pull money out of your account at an ATM. Having your checking account emptied of cash while your bank sorts out the situation can be a huge hassle and create secondary problems (bounced checks, for instance).
This advice often runs counter to the messaging pushed by fuel station owners themselves, many of whom offer lower prices for cash or debit card transactions. That's because credit card transactions typically are more expensive to process.
The U.S. government — along with a number of leading security companies — recently warned about a series of highly complex and widespread attacks that allowed suspected Iranian hackers to siphon huge volumes of email passwords and other sensitive data from multiple governments and private companies. But to date, the specifics of exactly how that attack went down and who was hit have remained shrouded in secrecy.
This post seeks to document the extent of those attacks, and traces the origins of this overwhelmingly successful cyber espionage campaign back to a cascading series of breaches at key Internet infrastructure providers.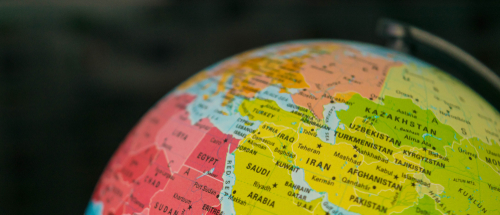 Before we delve into the extensive research that culminated in this post, it's helpful to review the facts disclosed publicly so far. On Nov. 27, 2018, Cisco's Talos research division published a write-up outlining the contours of a sophisticated cyber espionage campaign it dubbed "DNSpionage."
The DNS part of that moniker refers to the global "Domain Name System," which serves as a kind of phone book for the Internet by translating human-friendly Web site names (example.com) into numeric Internet address that are easier for computers to manage.
Talos said the perpetrators of DNSpionage were able to steal email and other login credentials from a number of government and private sector entities in Lebanon and the United Arab Emirates by hijacking the DNS servers for these targets, so that all email and virtual private networking (VPN) traffic was redirected to an Internet address controlled by the attackers.
Talos reported that these DNS hijacks also paved the way for the attackers to obtain SSL encryption certificates for the targeted domains (e.g. webmail.finance.gov.lb), which allowed them to decrypt the intercepted email and VPN credentials and view them in plain text.
On January 9, 2019, security vendor FireEye released its report, "Global DNS Hijacking Campaign: DNS Record Manipulation at Scale," which went into far greater technical detail about the "how" of the espionage campaign, but contained few additional details about its victims.
Twelve days after the FireEye report, the U.S. Department of Homeland Security issued a rare emergency directive ordering all U.S. federal civilian agencies to secure the login credentials for their Internet domain records. As part of that mandate, DHS published a short list of domain names and Internet addresses that were used in the DNSpionage campaign, although those details did not go beyond what was previously released by either Cisco Talos or FireEye.
That changed on Jan. 25, 2019, when security firm CrowdStrike published a blog post listing virtually every Internet address known to be (ab)used by the espionage campaign to date. The remainder of this story is based on open-source research and interviews conducted by KrebsOnSecurity in an effort to shed more light on the true extent of this extraordinary — and ongoing — attack.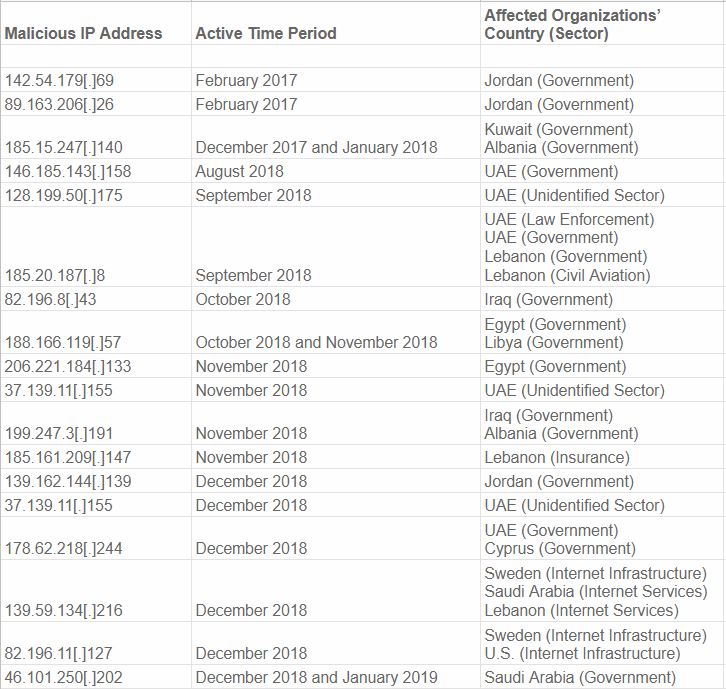 PASSIVE DNS
I began my research by taking each of the Internet addresses laid out in the CrowdStrike report and running them through both Farsight Security and SecurityTrails, services that passively collect data about changes to DNS records tied to tens of millions of Web site domains around the world.
Working backwards from each Internet address, I was able to see that in the last few months of 2018 the hackers behind DNSpionage succeeded in compromising key components of DNS infrastructure for more than 50 Middle Eastern companies and government agencies, including targets in Albania, Cyprus, Egypt, Iraq, Jordan, Kuwait, Lebanon, Libya, Saudi Arabia and the United Arab Emirates.
For example, the passive DNS data shows the attackers were able to hijack the DNS records for mail.gov.ae, which handles email for government offices of the United Arab Emirates. Here are just a few other interesting assets successfully compromised in this cyber espionage campaign:
-nsa.gov.iq: the National Security Advisory of Iraq
-webmail.mofa.gov.ae: email for the United Arab Emirates' Ministry of Foreign Affairs
-shish.gov.al: the State Intelligence Service of Albania
-mail.mfa.gov.eg: mail server for Egypt's Ministry of Foreign Affairs
-mod.gov.eg: Egyptian Ministry of Defense
-embassy.ly: Embassy of Libya
-owa.e-albania.al: the Outlook Web Access portal for the e-government portal of Albania
-mail.dgca.gov.kw: email server for Kuwait's Civil Aviation Bureau
-gid.gov.jo: Jordan's General Intelligence Directorate
-adpvpn.adpolice.gov.ae: VPN service for the Abu Dhabi Police
-mail.asp.gov.al: email for Albanian State Police
-owa.gov.cy: Microsoft Outlook Web Access for Government of Cyprus
-webmail.finance.gov.lb: email for Lebanon Ministry of Finance
-mail.petroleum.gov.eg: Egyptian Ministry of Petroleum
-mail.cyta.com.cy: Cyta telecommunications and Internet provider, Cyprus
-mail.mea.com.lb: email access for Middle East Airlines
The passive DNS data provided by Farsight and SecurityTrails also offered clues about when each of these domains was hijacked. In most cases, the attackers appear to have changed the DNS records for these domains (we'll get to the "how" in a moment) so that the domains pointed to servers in Europe that they controlled.
Shortly after the DNS records for these TLDs were hijacked — sometimes weeks, sometimes just days or hours — the attackers were able to obtain SSL certificates for those domains from SSL providers Comodo and/or Let's Encrypt. The preparation for several of these attacks can be seen at cert.sh, which provides a searchable database of all new SSL certificate creations.
Let's take a closer look at one example. The CrowdStrike report references the Internet address 139.59.134[.]216 (see above), which according to Farsight was home to just seven different domains over the years. Two of those domains only appeared at that Internet address in December 2018, including domains in Lebanon and — curiously — Sweden.
The first domain was "ns0.idm.net.lb," which is a server for the Lebanese Internet service provider IDM. From early 2014 until December 2018, ns0.idm.net.lb pointed to 194.126.10[.]18, which appropriately enough is an Internet address based in Lebanon. But as we can see in the screenshot from Farsight's data below, on Dec. 18, 2018, the DNS records for this ISP were changed to point Internet traffic destined for IDM to a hosting provider in Germany (the 139.59.134[.]216 address).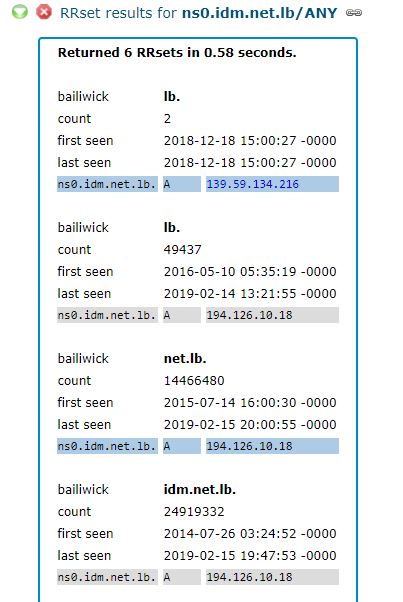 Notice what else is listed along with IDM's domain at 139.59.134[.]216, according to Farsight: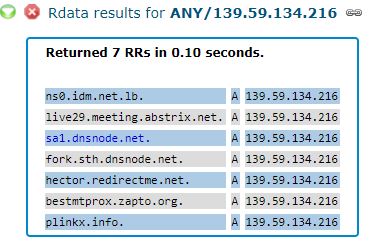 The DNS records for the domains sa1.dnsnode.net and fork.sth.dnsnode.net also were changed from their rightful home in Sweden to the German hosting provider controlled by the attackers in December. These domains are owned by Netnod Internet Exchange, a major global DNS provider based in Sweden. Netnod also operates one of the 13 "root" name servers, a critical resource that forms the very foundation of the global DNS system.
We'll come back to Netnod in a moment. But first let's look at another Internet address referenced in the CrowdStrike report as part of the infrastructure abused by the DNSpionage hackers: 82.196.11[.]127. This address in The Netherlands also is home to the domain mmfasi[.]com, which Crowdstrike says was one of the attacker's domains that was used as a DNS server for some of the hijacked infrastructure.
As we can see in the screenshot above, 82.196.11[.]127 was temporarily home to another pair of Netnod DNS servers, as well as the server "ns.anycast.woodynet.net." That domain is derived from the nickname of Bill Woodcock, who serves as executive director of Packet Clearing House (PCH).
PCH is a nonprofit entity based in northern California that also manages significant amounts of the world's DNS infrastructure, particularly the DNS for more than 500 top-level domains and a number of the Middle East top-level domains targeted by DNSpionage.
TARGETING THE REGISTRARS
Contacted on Feb. 14 by KrebsOnSecurity, Netnod CEO Lars Michael Jogbäck confirmed that parts of Netnod's DNS infrastructure were hijacked in late December 2018 and early January 2019 after the attackers gained access to accounts at Netnod's domain name registrar.
Jogbäck pointed to a statement the company published on its Web site on Feb. 5, which says Netnod learned of its role in the attack on January 2 and has been in contact with all relevant parties and customers throughout this process.
"As a participant in an international security co-operation, Netnod became aware on 2 January 2019 that we had been caught up in this wave and that we had experienced a MITM (man-in-the-middle) attack," the statement reads. "Netnod was not the ultimate goal of the attack. The goal is considered to have been the capture of login details for Internet services in countries outside of Sweden."
In an interview with this author on Feb. 15, PCH's Woodcock acknowledged that portions of his organization's DNS infrastructure were compromised after the DNSpionage hackers abused unauthorized access to its domain name registrar.
As it happens, the registrar records for both pch.net and dnsnode.net point to the same sources: Key-Systems GmbH, a domain registrar based in Germany; and Frobbit.se, a company in Sweden. Frobbit is a reseller of Key Systems, and the two companies share some of the same online resources.
Woodcock said domain records for the targeted Middle East TLDs it managed were altered after the DNSpionage hackers phished credentials that Key-Systems uses to make domain changes for their clients.
Specifically, he said, the hackers phished credentials that PCH's registrar used to send signaling messages known as the Extensible Provisioning Protocol (EPP). EPP is a little-known interface that serves as a kind of back-end for the global DNS system, allowing domain registrars to notify the regional registries (like Verisign) about changes to domain records, including new domain registrations, modifications, and transfers.
"At the beginning of January, Key-Systems said they believed that their EPP interface had been abused by someone who had stolen valid credentials," Woodcock said.
Key-Systems declined to comment for this story, beyond saying it does not discuss details of its reseller clients' businesses.
Netnod's written statement on the attack referred further inquiries to the company's security director Patrik Fältström, who also is co-owner of Frobbit.se.
In an email to KrebsOnSecurity, Fältström said unauthorized EPP instructions were sent to various registries by the DNSpionage attackers from both Frobbit and Key Systems.
"The attack was from my perspective clearly an early version of a serious EPP attack," he wrote. "That is, the goal was to get the right EPP commands sent to the registries. I am extremely nervous personally over extrapolations towards the future. Should registries allow any EPP command to come from the registrars? We will always have some weak registrars, right?"
DNSSEC
One of the more interesting aspects of these attacks is that both Netnod and PCH are vocal proponents and adopters of DNSSEC (a.k.a. "DNS Security Extensions"), which is a technology designed to defeat the very type of attack that the DNSpionage hackers were able to execute.

DNSSEC protects applications from using forged or manipulated DNS data, by requiring that all DNS queries for a given domain or set of domains be digitally signed. In DNSSEC, if a name server determines that the address record for a given domain has not been modified in transit, it resolves the domain and lets the user visit the site. If, however, that record has been modified in some way or doesn't match the domain requested, the name server blocks the user from reaching the fraudulent address.
While DNSSEC can be an effective tool for mitigating attacks such as those launched by DNSpionage, only about 20 percent of the world's major networks and Web sites have enabled it, according to measurements gathered by APNIC, the regional Internet address registry for the Asia-Pacific region.
Jogbäck said Netnod's infrastructure suffered three separate attacks from the DNSpionage attackers. The first two occurred in a two-week window between Dec. 14, 2018 and Jan. 2, 2019, and targeted company servers that were not protected by DNSSEC.
However, he said the third attack between Dec. 29 and Jan. 2 targeted Netnod infrastructure that was protected by DNSSEC and serving its own internal email network. Yet, because the attackers already had access to its registrar's systems, they were able to briefly disable that safeguard — or at least long enough to obtain SSL certificates for two of Netnod's email servers.
Jogbäck told KrebsOnSecurity that once the attackers had those certificates, they re-enabled DNSSEC for the company's targeted servers while apparently preparing to launch the second stage of the attack — diverting traffic flowing through its mail servers to machines the attackers controlled. But Jogbäck said that for whatever reason, the attackers neglected to use their unauthorized access to its registrar to disable DNSSEC before later attempting to siphon Internet traffic.
"Luckily for us, they forgot to remove that when they launched their man-in-the-middle attack," he said. "If they had been more skilled they would have removed DNSSEC on the domain, which they could have done."
Woodcock says PCH validates DNSSEC on all of its infrastructure, but that not all of the company's customers — particularly some of the countries in the Middle East targeted by DNSpionage — had configured their systems to fully implement the technology.
Woodcock said PCH's infrastructure was targeted by DNSpionage attackers in four distinct attacks between December 13, 2018 and January 2, 2019. With each attack, the hackers would turn on their password-slurping tools for roughly one hour, and then switch them off before returning the network to its original state after each run.
The attackers didn't need to enable their surveillance dragnet longer than an hour each time because most modern smartphones are configured to continuously pull new email for any accounts the user may have set up on his device. Thus, the attackers were able to hoover up a great many email credentials with each brief hijack.
On Jan. 2, 2019 — the same day the DNSpionage hackers went after Netnod's internal email system — they also targeted PCH directly, obtaining SSL certificates from Comodo for two PCH domains that handle internal email for the company.
Woodcock said PCH's reliance on DNSSEC almost completely blocked that attack, but that it managed to snare email credentials for two employees who were traveling at the time. Those employees' mobile devices were downloading company email via hotel wireless networks that — as a prerequisite for using the wireless service — forced their devices to use the hotel's DNS servers, not PCH's DNNSEC-enabled systems.
"The two people who did get popped, both were traveling and were on their iPhones, and they had to traverse through captive portals during the hijack period," Woodcock said. "They had to switch off our name servers to use the captive portal, and during that time the mail clients on their phones checked for new email. Aside from that, DNSSEC saved us from being really, thoroughly owned."
Because PCH had protected its domains with DNSSEC, the practical effect of the hijack against its mail infrastructure was that for roughly an hour nobody but the two remote employees received any email.
"For essentially all of our users, what it looked like was the mail server just wasn't available for a short period," Woodcock said. "It didn't resolve for a while if they happened to be checking their phone or whatever, and each person thought well that's funny, I'll check it back in a while. And by the time they checked again it was working fine. A bunch of our staff noticed a brief outage in our email service, but nobody thought enough of it to discuss it with anyone else or open a ticket."
But the DNSpionage hackers were not deterred. In a letter to its customers sent earlier this month, PCH said a forensic investigation determined that on Jan. 24 a computer which holds its Web site user database had been compromised. The user data stored in the database included customer usernames, bcrypt password hashes, emails, addresses, and organization names.
"We see no evidence that the attackers accessed the user database or exfiltrated it," the message reads. "So we are providing you this information as a matter of transparency and precaution, rather than because we believe that your data was compromised."
IMPROVEMENTS
Multiple experts interviewed for this story said one persistent problem with DNS-based attacks is that a great deal of organizations tend to take much of their DNS infrastructure for granted. For example, many entities don't even log their DNS traffic, nor do they keep a close eye on any changes made to their domain records.
Even for those companies making an effort to monitor their DNS infrastructure for suspicious changes, some monitoring services only take snapshots of DNS records passively, or else only do so actively on a once-daily basis. Indeed, Woodcock said PCH relied on no fewer than three monitoring systems, and that none of them alerted his organization to the various one-hour hijacks that hit PCH's DNS systems.
"We had three different commercial DNS monitoring services, none of which caught it," he said. "None of them even warned us that it had happened after the fact."
Woodcock said PCH has since set up a system to poll its own DNS infrastructure multiple times each hour, and to alert immediately on any changes.
Jogbäck said Netnod also has beefed up its monitoring, as well as redoubled efforts to ensure that all of the available options for securing their domain infrastructure were being used. For instance, the company had not previously secured all of its domains with a "domain lock," a service that requires a registrar to take additional authentication steps before making any modifications to a domain's records.
"We are really sad we didn't do a better job of protecting our customers, but we are also a victim in the chain of the attack," Jogbäck said. "You can change to a better lock after you've been robbed, and hopefully make it more difficult for someone to do it again. But I can truly say we have learned a tremendous amount from being a victim in this attack, and we are now much better off than before."
Woodcock said he's worried that Internet policymakers and other infrastructure providers aren't taking threats to the global DNS seriously or urgently enough, and he's confident the DNSpionage hackers will have plenty of other victims to target and exploit in the months and years ahead.
"All of this is a running battle," he said. "The Iranians are not just trying to do these attacks to have an immediate effect. They're trying to get into the Internet infrastructure deeply enough so they can get away with this stuff whenever they want to. They're looking to get as many ways in as possible that they can use for specific goals in the future."
RECOMMENDATIONS
John Crain is chief security, stability and resiliency officer at ICANN, the non-profit entity that oversees the global domain name industry. Crain said many of the best practices that can make it more difficult for attackers to hijack a target's domains or DNS infrastructure have been known for more than a decade.
"A lot of this comes down to data hygiene," Crain said. "Large organizations down to mom-and-pop entities are not paying attention to some very basic security practices, like multi-factor authentication. These days, if you have a sub-optimal security stance, you're going to get owned. That's the reality today. We're seeing much more sophisticated adversaries now taking actions on the Internet, and if you're not doing the basic stuff they're going to hit you."
Some of those best practices for organizations include:
-Use DNSSEC (both signing zones and validating responses)
-Use registration features like Registry Lock that can help protect domain names records from being changed
-Use access control lists for applications, Internet traffic and monitoring
-Use 2-factor authentication, and require it to be used by all relevant users and subcontractors
-In cases where passwords are used, pick unique passwords and consider password managers
-Review accounts with registrars and other providers
-Monitor certificates by monitoring, for example, Certificate Transparency Logs
Federal authorities this week arrested a North Carolina man who allegedly ran with a group of online hooligans that attacked Web sites (including this one), took requests on Twitter to call in bomb threats to thousands of schools, and tried to frame various online gaming sites as the culprits. In an ironic twist, the accused — who had fairly well separated his real life identity from his online personas — appears to have been caught after a gaming Web site he frequented got hacked.
On Feb. 12, the U.S. Justice Department announced the arrest of Timothy Dalton Vaughn, a 20-year-old from Winston-Salem, N.C. Vaughn is alleged to have been a key member of the Apophis Squad, a gang of ne'er-do-wells who made bomb threats against thousands of schools and launched distributed denial-of-service (DDoS) attacks against Web sites — including KrebsOnSecurity on multiple occasions.
The feds say Vaughn used multiple aliases on Twitter and elsewhere to crow about his attacks, including "HDGZero," "WantedByFeds," and "Xavier Farbel." Among the Apophis Squad's targets was encrypted mail service Protonmail, which reached out to this author last year for clues about the identities of the Apophis Squad members after noticing we were both being targeted by them and receiving demands for money in exchange for calling off the attacks.
Protonmail later publicly thanked KrebsOnSecurity for helping to bring about the arrest of Apophis Squad leader George Duke-Cohan — a.k.a. "opt1cz," "7R1D3n7," and "Pl3xl3t," — a 19-year-old from the United Kingdom who was convicted in December 2018 and sentenced to three years in prison. But the real-life identity of HDGZero remained a mystery to both of us, as there was little publicly available information at the time connecting that moniker to anyone.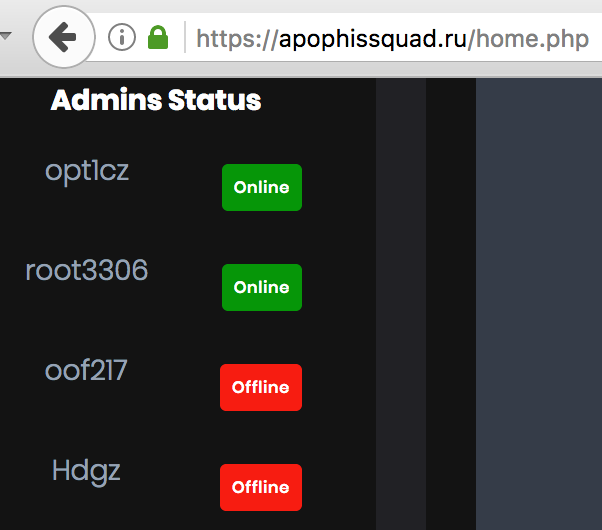 That is, until early January 2019, when news broke that hackers had broken into the servers of computer game maker BlankMediaGames and made off with account details of some 7.6 million people who had signed up to play "Town of Salem, the company's browser-based role playing game. That stolen information has since been posted and resold in underground forums.
A review of the leaked BlankMediaGames user database shows that in late 2018, someone who selected the username "hdgzero" signed up to play Town of Salem, registering with the email address xavierfarbel@gmail.com. The data also shows this person registered at the site using a Sprint mobile device with an Internet address that traced back to the Carolinas.
The Justice Department indictment against Vaughn and Duke-Cohan released this week alleges the pair were equally responsible for sending spoofed bomb threat emails to 2,000 schools in the United States and more than 400 in the U.K., falsely warning that various explosive devices were planted at the schools and would be detonated unless a ransom demand was paid.
In this snippet from a January 2018 online chat taken from a channel maintained by HDGZero, the accused can be seen claiming credit for the bomb threats and posting links to stories in various local media outlets about schools evacuating students in response to the threats. The bomb threat emails were made to look like they were sent by different high-profile squads of online gamers competing against one another in the wildly popular game Minecraft.
The government maintains that, through their various Twitter handles, Duke-Cohan and Vaughn even offered to take requests for shutting down specific schools with bomb threats.
"We are OPEN for request for school lockdowns / evacs," read a tweet from the Twitter account @apophissquadv2, which the Justice Department says Duke-Cohan and Vaughn shared. "Send us your request to apophissquad@tuta.io (FREE)."
The government alleges that Vaughn also participated with Duke-Cohan in reporting the hijack of a United Airlines flight bound for the United States. That flight, which had almost 300 passengers on board, was later quarantined for four hours in San Francisco pending a full security check.
The indictment charges Vaughn and Duke-Cohan with conspiracy and eight additional felony offenses, including making threats to injure in interstate commerce and making interstate threats involving explosives. Vaughn is additionally charged with intentionally damaging a computer and interstate threat to damage a protected computer with intent to extort.
A Justice Department press release on the indictment states that if convicted of all 11 charges, Vaughn would face a statutory maximum sentence of 80 years in federal prison. If convicted of the nine charges in the indictment in which he is named, Duke-Cohan would face a statutory maximum sentence of 65 years in federal prison.
Microsoft on Tuesday issued a bevy of patches to correct at least 70 distinct security vulnerabilities in Windows and software designed to interact with various flavors of the operating system. This month's patch batch tackles some notable threats to enterprises — including multiple flaws that were publicly disclosed prior to Patch Tuesday. It also bundles fixes to quash threats relevant to end users, including critical updates for Adobe Flash Player and Microsoft Office, as well as a zero-day bug in Internet Explorer.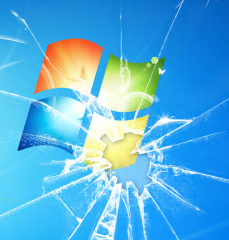 Some 20 of the flaws addressed in February's update bundle are weaknesses labeled "critical," meaning Microsoft believes that attackers or malware could exploit them to fully compromise systems through little or no help from users — save from convincing a user to visit a malicious or hacked Web site.
Microsoft patched a bug in Internet Exploder Explorer (CVE-2019-0676) discovered by Google that attackers already are using to target vulnerable systems. This flaw could allow malware or miscreants to check for the presence of specific files on the target's hard drive.
Another critical vulnerability that impacts both end users and enterprises is a weakness in the Windows component responsible for assigning Internet addresses to host computers (a.k.a. "Windows DHCP client"). That flaw, CVE-2019-0626, could let an attacker execute malcode of his choice just by sending the target a specially crafted DHCP request.
At the top of the list of patch concerns mainly for companies is a publicly disclosed issue with Microsoft Exchange services (CVE-2019-0686) that could allow an attacker on the same network as the target to access the inbox of other users. Microsoft said it has not seen active exploitation of this bug yet, but considers it likely to be exploited soon.
Security experts are fond of saying "patch now!" when it comes to Windows bugs, but in general it can't hurt for regular users to wait a day or two after Microsoft releases monthly security updates before installing the fixes. That's because occasionally buggy patches can cause serious headaches for users who install them before all the kinks are worked out.
Just don't put off the task too long. And bear in mind it's a good idea to get in the habit of backing up your data before installing Windows updates, to hedge against the odd case in which a wonky patch ends up rendering your system unusable until you can work out how to reverse the changes.
Windows 10 likes to install patches all in one go and reboot your computer on its own schedule. Microsoft doesn't make it easy for Windows 10 users to change this setting, but it is possible. For all other Windows OS users, if you'd rather be alerted to new updates when they're available so you can choose when to install them, there's a setting for that in Windows Update.
Microsoft also included fixes to address a single vulnerability in Adobe Flash Player. Microsoft and Adobe disagree on the severity of this flaw, according to security firm Qualys. Adobe labels it an "important" bug, while Microsoft tags it with a far more severe "critical" label. Regardless, Flash flaws are favorite targets of attackers. If you brows the Web with IE or Edge, this month's patch batch from Microsoft has you covered.
Fortunately, the most popular Web browser by a long shot — Google Chrome — auto-updates Flash but also is now making users explicitly enable Flash every time they want to use it (Microsoft also bundles Flash with IE/Edge and updates it whenever Windows systems install monthly updates). By the summer of 2019 Google will make Chrome users go into their settings to enable it every time they want to run it.
Firefox also forces users with the Flash add-on installed to click in order to play Flash content; instructions for disabling or removing Flash from Firefox are here. Adobe will stop supporting Flash at the end of 2020.
Adobe also released updates for Adobe Acrobat and Reader that plug at least 70 security holes in these applications, so if you have either installed please be sure to update those.
As always, if you experience any problems installing any of these patches this month, please feel free to leave a comment about it below; there's a good chance other readers have experienced the same and may even chime in here with some helpful tips.
Email provider VFEmail has suffered what the company is calling "catastrophic destruction" at the hands of an as-yet unknown intruder who trashed all of the company's primary and backup data in the United States. The firm's founder says he now fears some 18 years' worth of customer email may be gone forever.
Founded in 2001 and based in Milwaukee, Wisc., VFEmail provides email service to businesses and end users. The first signs of the attack came on the morning of Feb. 11, when the company's Twitter account started fielding reports from users who said they were no longer receiving messages. VFEmail's Twitter account responded that "external facing systems, of differing OS's and remote authentication, in multiple data centers are down."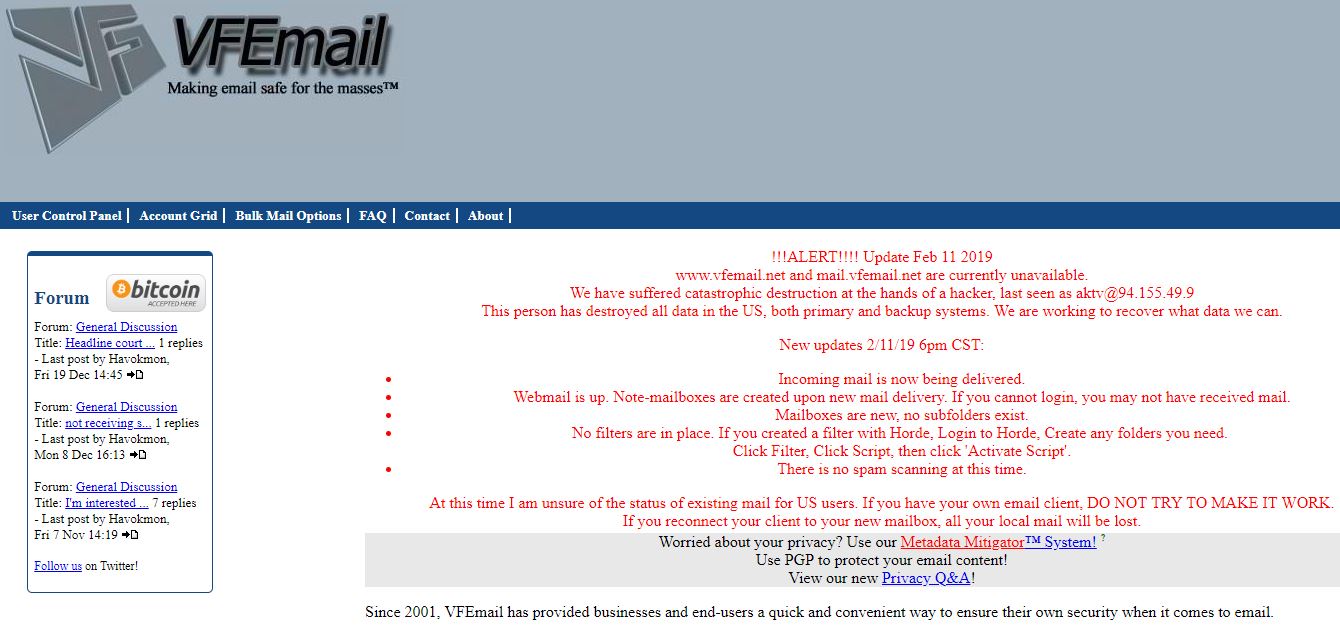 Two hours later, VFEmail tweeted that it had caught a hacker in the act of formatting one of the company's mail servers in The Netherlands.
"nl101 is up, but no incoming email," read a tweet shortly thereafter. "I fear all US based data my be lost."
"At this time, the attacker has formatted all the disks on every server," wrote VFEmail. "Every VM [virtual machine] is lost. Every file server is lost, every backup server is lost. Strangely, not all VMs shared the same authentication, but all were destroyed. This was more than a multi-password via ssh exploit, and there was no ransom. Just attack and destroy."
In an update posted to the company's Web site, VFEmail owner Rick Romero wrote that new email was being delivered and that efforts were being made to recover what user data could be salvaged.
"At this time I am unsure of the status of existing mail for US users," Romero wrote. "If you have your own email client, DO NOT TRY TO MAKE IT WORK. If you reconnect your client to your new mailbox, all your local mail will be lost."
Reached by KrebsOnSecurity on Tuesday morning, Romero said he was able to recover a backup drive hosted in The Netherlands, but that he fears all of the mail for U.S. users may be irreparably lost.
"I don't have very high expectations of getting any U.S. data back," Romero said in an online chat.
John Senchak, a longtime VFEmail user from Florida who also has been a loyal reader and commenter at this blog, told KrebsOnSecurity that the attack completely wiped out his inbox at the company — some 60,000 emails sent and received over more than a decade.
"I have a account with that site, all the email in my account was deleted," Senchak said.
Asked if he had any clues about the attackers or how they may have broken in, Romero said the intruder appeared to be doing his dirty work from a server based in Bulgaria (94.155.49[9], username "aktv.")
"I haven't done much digging yet on the actors," he said. "It looked like the IP was a Bulgarian hosting company. So I'm assuming it was just a virtual machine they were using to launch the attack from. There definitely was something that somebody didn't want found. Or, I really pissed someone off. That's always possible."
This isn't the first time criminals have targeted VFEmail. I wrote about the company in 2015 after it suffered a debilitating distributed denial-of-service (DDoS) attack after Romero declined to pay a ransom demand from an online extortion group. Another series of DDoS attacks in 2017 forced VFEmail to find a new hosting provider.
In December 2018, Romero tweeted that service had been disrupted by a DDoS attack that he attributed to "script kiddies," a derisive reference to low-skilled online hooligans.
"After 17 years if I was planning to shut it down, it'd be shut down by me – not script kiddies," Romero wrote on Dec. 8.
Attacks that seek to completely destroy data and servers without any warning or extortion demand are not as common as, say, ransomware infestations, but when they do occur they can be devastating (the 2014 Sony Pictures hack and the still-unsolved 2016 assault on U.S.-based ISP Staminus come to mind).
It's not clear how or whether VFEmail will recover from this latest attack, but such actions are an unsettling reminder that although most cybercriminals have some kind of short- or long-term profit motive in mind, an intruder with privileged access to a network can just as well virtually destroy everything within reach as they can plant malware or extortion threats like ransomware.
A highly targeted, malware-laced phishing campaign landed in the inboxes of multiple credit unions last week. The missives are raising eyebrows because they were sent only to specific anti-money laundering contacts at credit unions, and many credit union sources say they suspect the non-public data may have been somehow obtained from the National Credit Union Administration (NCUA), an independent federal agency that insures deposits at federally insured credit unions.
The USA Patriot Act, passed in the wake of the terror attacks of Sept 11, 2001, requires all financial institutions to appoint at least two Bank Secrecy Act (BSA) contacts responsible for reporting suspicious financial transactions that may be associated with money laundering. U.S. credit unions are required to register these BSA officers with the NCUA.
On the morning of Wednesday, Jan. 30, BSA officers at credit unions across the nation began receiving emails spoofed to make it look like they were sent by BSA officers at other credit unions. The missives addressed each contact by name, claimed that a suspicious transfer from one of the recipient credit union's customers was put on hold for suspected money laundering, and encouraged recipients to open an attached PDF to review the suspect transaction.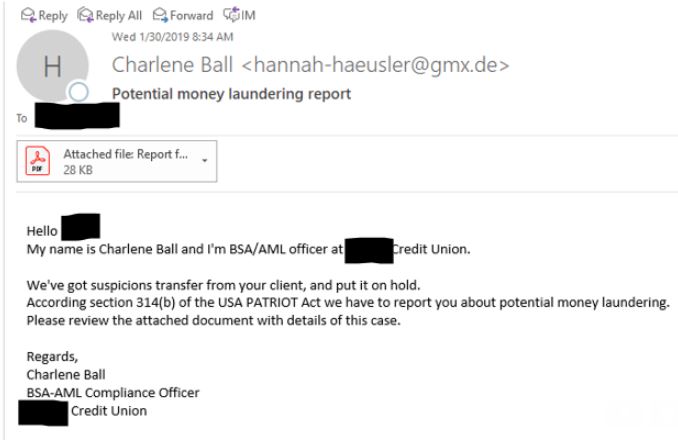 The phishing emails contained grammatical errors and were sent from email addresses not tied to the purported sending credit union. It is not clear if any of the BSA officers who received the messages actually clicked on the attachment, although one credit union source reported speaking with a colleague who feared a BSA contact at their institution may have fallen for the ruse.
One source at an association that works with multiple credit unions who spoke with KrebsOnSecurity on condition of anonymity said many credit unions are having trouble imagining another source for the recipient list other than the NCUA.
"I tried to think of any public ways that the scammers might have received a list of BSA officers, but sites like LinkedIn require contact through the site itself," the source said. "CUNA [the Credit Union National Association] has BSA certification schools, but they certify state examiners and trade association staff (like me), so non-credit union employees that utilize the school should have received these emails if the list came from them. As far as we know, only credit union BSA officers have received the emails. I haven't seen anyone who received the email say they were not a BSA officer yet."
"Wonder where they got the list of BSA contacts at all of our credit unions," said another credit union source. "They sent it to our BSA officer, and [omitted] said they sent it to her BSA officers." A BSA officer at a different credit union said their IT department had traced the source of the message they received back to Ukraine.
The NCUA has not responded to multiple requests for comment since Monday. The agency's instructions for mandatory BSA reporting (PDF) state that the NCUA will not release BSA contact information to the public. Officials with CUNA also did not respond to requests for comment.
A notice posted by the U.S. Treasury Department's Financial Crimes Enforcement Network (FinCEN) said the bureau was aware of the phishing campaign, and was urging financial institutions to disregard the missives.
The latest scam comes amid a significant rise in successful phishing attacks, according to a non-public alert sent in late January by the U.S. Secret Service to financial institutions nationwide. "The Secret Service is observing a noticeable increase in successful large-scale phishing attacks targeting unsuspecting victims across industry," the alert warns.
The Secret Service alert reminds readers that we in the United States are entering tax season, which typically brings a large spike in scams designed to siphon personal and financial data. It also includes some helpful reminders, including:
-Never click on links embedded in emails or open any attachments from unknown or suspect fraudulent email accounts.
-Always independently verify any requested information originates from a legitimate source.
-Visit Web sites by entering the domain name yourself (for sensitive sites, preferably by using a bookmark you created previously).
-If you are contacted via phone, hang up, look up the number for the institution at that institution's Web site, and call back. Do not give out information in an unsolicited phone call.
Prosecutors in Northern California have charged two men with using unauthorized SIM swaps to steal and extort money from victims. One of the individuals charged allegedly used a hacker nickname belonging to a key figure in the underground who's built a solid reputation hijacking mobile phone numbers for profit.
According to indictments unsealed this week, Tucson, Ariz. resident Ahmad Wagaafe Hared and Matthew Gene Ditman of Las Vegas were part of a group that specialized in tricking or bribing representatives at the major wireless providers into giving them control over phone numbers belonging to people they later targeted for extortion and theft.
Investigators allege that between October 2016 and May 2018, Hared and Ditman grew proficient at SIM swapping, a complex form of mobile phone fraud that is often used to steal large amounts of cryptocurrencies and other items of value from victims.
The Justice Department says Hared was better known to his co-conspirators as "winblo." That nickname corresponds to an extremely active and at one time revered member of the forum ogusers[.]com, a marketplace for people who wish to sell highly prized social media account names — including short usernames at Twitter, Instagram and other sites that can fetch thousands of dollars apiece.
Winblo was an associate and business partner of another top Oguser member, a serial SIM swapper known to Oguser members as "
Xzavyer
." In August 2018,
authorities in California arrested a hacker by the same name
— whose real name is
Xzavyer Clemente Narvaez
— charging him with identity theft, grand theft, and computer intrusion.
Prosecutors allege Narvaez used the proceeds of his crimes (estimated at > $1 million in virtual currencies) to purchase luxury items, including a McLaren — a $200,000 high-performance sports car.
According to the indictments against Hared and Ditman, one of the men (the indictment doesn't specify which) allegedly used his ill-gotten gains to purchase a BMW i8, an automobile that sells for about $150,000.
Investigators also say the two men stole approximately 40 bitcoins from their SIM swapping victims. That's roughly $136,000 in today's conversion, but it would have been substantially more in 2017 when the price of a single bitcoin reached nearly $20,000.
Interestingly, KrebsOnSecurity was contacted in 2018 by a California man who said he was SIM swapped by Winblo and several associates. That victim, who asked not to be identified for fear of reprisals, said his Verizon mobile number was SIM hijacked by Winblo and others who used that access to take over his Twitter and PayPal accounts and then demand payment for the return of the accounts.
A computer specialist by trade, the victim said he was targeted because he'd invested in a cryptocurrency startup, and that the hackers found his contact information from a list of investors they'd somehow obtained. As luck would have it, he didn't have much of value to steal in his accounts.
The victim said he learned more about his tormentors and exactly how they'd taken over his mobile number after they invited him to an online chat to negotiate a price for the return of his accounts.
"They told me they had called a Verizon employee line [posing as a Verizon employee] and managed to get my Verizon account ID number," said my victim source. "Once they had that, they called Verizon customer service and had them reset the password. They literally just called and pretended to be me, and were able to get my account tied to another SIM card."
The victim said his attackers even called his mom because the mobile account was in her name. Soon after that, his phone went dead.
"The funny thing was, after I got my account back the next day, there was a voicemail from a Verizon customer service agent who said something like, 'Hey [omitted], heard you were having trouble with your line, hope the new SIM card is working okay, give us a call if not, have a nice day.'"
RECKONING
The indictments against Hared and Ditman come amid a series of arrests, charges and sentences targeting admitted and suspected SIM swappers. Last week, Joel Ortiz — a 20-year-old college student valedictorian accused of stealing more than $5 million in cryptocurrency in a slew of SIM hijacking attacks — became the first to be convicted for the crime, accepting a plea deal for a 10-year prison term.
Many of the people being arrested and charged with SIM swapping were part of a tight circle of individuals who spent money almost as quickly as they stole it. The video below was posted to the Instagram account "O," a username that was hijacked by Ortiz. The video shows a birthday party celebration for Xzavyer Narvarez at the Hyde Sunset club in Los Angeles. Notice the Twitter bird symbols at the bottom of each card brought out by the club's female attendants.
Another video posted by Ortiz — to a hijacked, highly sought Instagram account "T" — shows members of this group dumping out $200 bottles of glow-in-the-dark Dom Perignon champagne onto designer watches that cost thousands of dollars each.
Also last week, 20-year-old Dawson Bakies pleaded not guilty in Manhattan Supreme Court to 52 counts of identity theft, grand larceny, and computer trespass tied to alleged SIM swapping activity. According to the New York Post, Bakies, who lives with his mom in Columbus, Ohio, allegedly called customer-service representatives posing as his victims and was able to port their phone numbers to a device he controlled.
In November 2018, authorities in New York arrested 21-year-old Manhattan resident Nicholas Truglia on suspicion of using SIM swaps to steal approximately $1 million worth of cryptocurrencies from a Silicon Valley executive. Truglia also is being sued by cryptocurrency angel investor Michael Terpin, who alleges that Truglia used a SIM swap against AT&T to steal $24 million in cryptocurrencies from him.
WHAT CAN YOU DO?
SIM swappers tend to target people with plenty of funds in the bank or in cryptocurrency exchanges, but as my victim source's story shows, they often also SIM swap individuals who only appear to be high rollers. In the process, they may also rifle through your personal email and try to extort victims in exchange for turning over access to hijacked accounts.
There are several steps that readers can take to insulate themselves from SIM swapping attacks. First and foremost, do not re-use passwords to important accounts anywhere else. Also, take full advantage of the most robust form of multi-factor authentication available for the accounts you care about.
The web site twofactorauth.org breaks down online service providers by the types of secondary authentication offered (SMS, call, app-based one-time codes, security keys). Take a moment soon to review this important resource and harden your security posture wherever possible.
If the only two-factor authentication offered by a company you use is based on sending a one-time code via SMS or automated phone call, this is still better than relying on simply a password alone. But one-time codes generated by a mobile phone app such as Authy or Google Authenticator are more secure than SMS-based options because they are not directly vulnerable to SIM-swapping attacks. If available, physical security keys are an even better option.
Further reading:
Hanging Up on Mobile in the Name of Security
Godaddy.com, the world's largest domain name registrar, recently addressed an authentication weakness that cybercriminals were using to blast out spam through legitimate, dormant domains. But several more recent malware spam campaigns suggest GoDaddy's fix hasn't gone far enough, and that scammers likely still have a sizable arsenal of hijacked GoDaddy domains at their disposal.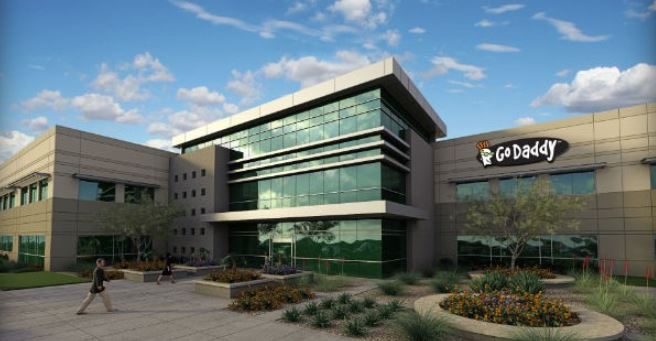 On January 22, KrebsOnSecurity published research showing that crooks behind a series of massive sextortion and bomb threat spam campaigns throughout 2018 — an adversary that's been dubbed "Spammy Bear" —  achieved an unusual amount of inbox delivery by exploiting a weakness at GoDaddy which allowed anyone to add a domain to their GoDaddy account without validating that they actually owned the domain.
Spammy Bear targeted dormant but otherwise legitimate domains that had one thing in common: They all at one time used GoDaddy's hosted Domain Name System (DNS) service. Researcher Ron Guilmette discovered that Spammy Bear was able to hijack thousands of these dormant domains for spam simply by registering free accounts at GoDaddy and telling the company's automated DNS service to allow the sending of email with those domains from an Internet address controlled by the spammers.
Very soon after that story ran, GoDaddy said it had put in place a fix for the problem, and had scrubbed more than 4,000 domain names used in the spam campaigns that were identified in my Jan. 22 story. But on or around February 1, a new spam campaign that leveraged similarly hijacked domains at GoDaddy began distributing Gand Crab, a potent strain of ransomware.
As noted in a post last week at the blog MyOnlineSecurity, the Gand Crab campaign used a variety of lures, including fake DHL shipping notices and phony AT&T e-fax alerts. The domains documented by MyOnlineSecurity all had their DNS records altered between Jan. 31 and Feb. 1 to allow the sending of email from Internet addresses tied to two ISPs identified in my original Jan. 22 report on the GoDaddy weakness.
"What makes these malware laden emails much more likely to be delivered is the fact that the sending domains all have a good reputation," MyOnlineSecurity observed. "There are dozens, if not hundreds of domains involved in this particular campaign. Almost all the domains have been registered for many years, some for more than 10 years."

In a statement provided to KrebsOnSecurity, GoDaddy said the company was confident the steps it took to address the problem were working as intended, and that GoDaddy had simply overlooked the domains abused in the recent GandCrab spam campaign.
"The domains used in the Gand Crab campaign were modified before then, but we missed them in our initial sweep," GoDaddy spokesperson Dan Race said. "While we are otherwise confident of the mitigation steps we took to prevent the dangling DNS issue, we are working to identify any other domains that need to be fixed."
"We do not believe it is possible for a person to hijack the DNS of one or more domains using the same tactics as used in the Spammy Bear and Gand Crab campaigns," Race continued. "However, we are assessing if there are other methods that may be used to achieve the same results, and we continue our normal monitoring for account takeover. We have also set up a reporting alias at dns-spam-concerns@godaddy.com to make it easier to report any suspicious activity or any details that might help our efforts to stop this kind of abuse."
That email address is likely to receive quite a few tips in the short run. Virus Bulletin editor Martijn Grooten this week published his analysis on a January 29 malware email campaign that came disguised as a shipping notice from UPS. Grooten said the spam intercepted from that campaign included links to an Internet address that was previously used to distribute GandCrab, and that virtually all of the domains seen sending the fake UPS notices used one of two pairs of DNS servers managed by GoDaddy.
"The majority of domains, which we think had probably had their DNS compromised, still point to the same IP address though," Grooten wrote. That IP address is currently home to a Web site that sells stolen credit card data.
Grooten told KrebsOnSecurity he suspects criminals may have succeeded at actually compromising several of GoDaddy's hosted DNS servers. For one thing, he said, the same pair (sometimes two pairs) of name servers keep appearing in the same campaign.
"In quite a few campaigns we saw domains used that were alphabetically close, [and] there are other domains used that had moved away from GoDaddy before these campaigns, yet were still used," Grooten said. "It's also interesting to note that hundreds — and perhaps thousands — of domains had their DNS changed within a short period of time. Such a thing is hard to do if you have to log into individual accounts."
GoDaddy said there has been no such breach.
"Our DNS servers have not been compromised," Race said. "The examples provided were dangled domains that had zone files created by the threat actor prior to when we implemented our mitigation on January 23. These domain names were parked until the threat actors activated them. They had the ability to do that because they owned the zone files already. We're continuing to review customer accounts for other potential zone entries."

First emerging in early 2018, Gand Crab has been dubbed "the most popular multi-million dollar ransomware of the year." Last week, KrebsOnSecurity was contacted by a company hit with Gand Crab in late January after an employee was taken in by what appears to be the same campaign detailed by Virus Bulletin.
Charlene Price is co-owner of A.S. Price Mechanical, a small metal fabrication business in Gilbert, South Carolina. Price said an employee was tricked into infecting one of their hard drives with Gand Crab, which encrypted the drive and demanded $2,000 in bitcoin for a key needed to unlock the files.
While Price and her husband consulted with tech experts and debated what to do next, the extortionists doubled the ransom demand to $4,000.
Sites like nomoreransom.org distribute free tools and tutorials that can help some ransomware victims recover their files without paying a ransom demand, but those tools often only work with specific versions of a particular ransomware strain. Price said the tool nomoreransom.org made available for Gand Crab infections was unable to decrypt the files on her scrambled hard drive.
"It's not fair or right and this is unjust," Price said. "We have accepted the fact, for now, that we are just locked out our company's information. We know nothing about this type of issue other than we have to pay it or just start again."
Update: 2:55 p.m. ET: Added statement from GoDaddy.
More than 250 customers of a popular and powerful online attack-for-hire service that was dismantled by authorities in 2018 are expected to face legal action for the damage they caused, according to Europol, the European Union's law enforcement agency.
In April 2018, investigators in the U.S., U.K. and the Netherlands took down attack-for-hire service WebStresser[.]org and arrested its alleged administrators. Prior to the takedown, the service had more than 151,000 registered users and was responsible for launching some four million attacks over three years. Now, those same authorities are targeting people who paid the service to conduct attacks.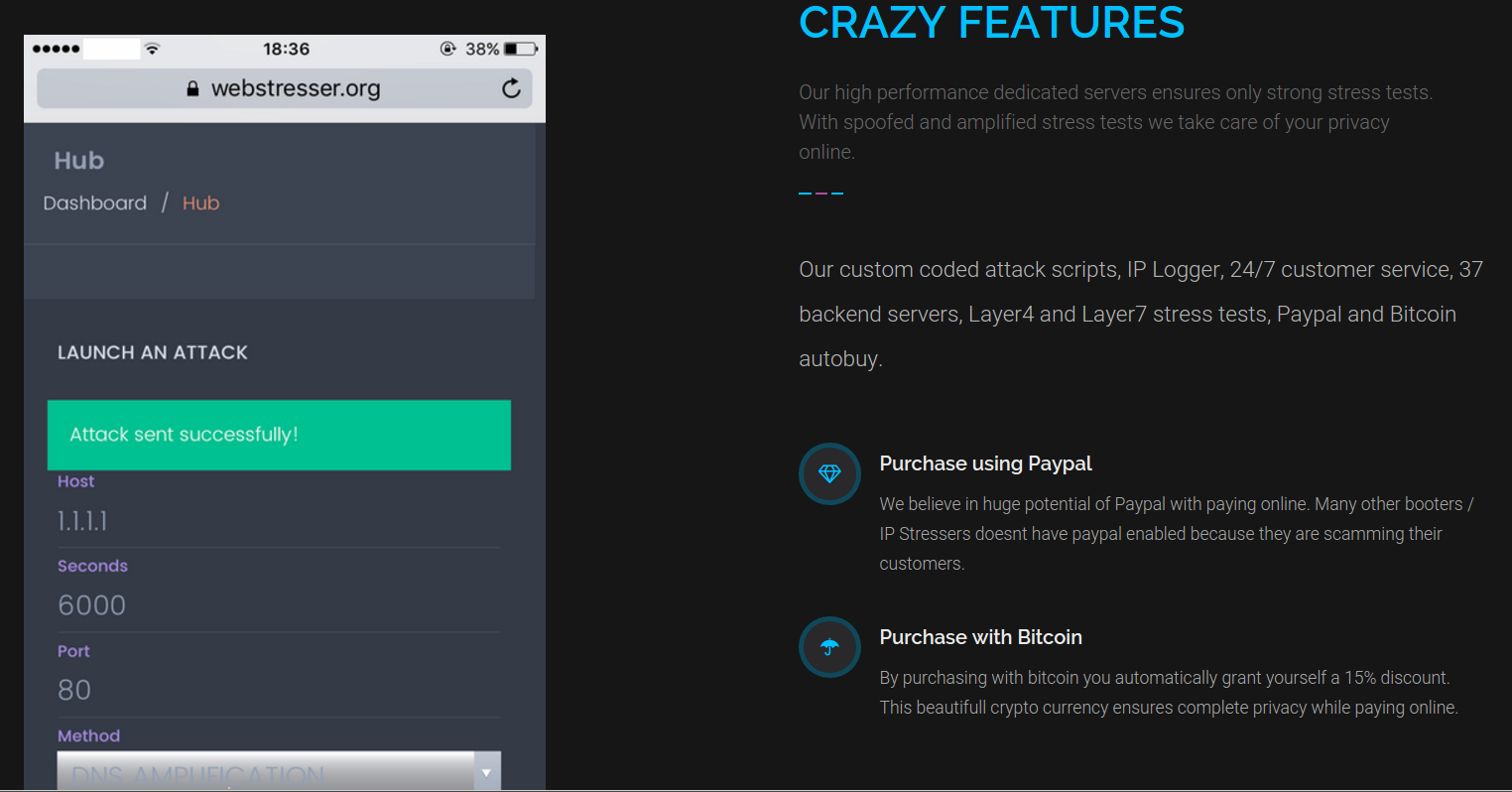 In the United Kingdom, police have seized more than 60 personal electronic devices from a number of Webstresser users, and some 250 customers of the service will soon face legal action, Europol said in a statement released this week.
"Size does not matter – all levels of users are under the radar of law enforcement, be it a gamer booting out the competition out of a game, or a high-level hacker carrying out DDoS attacks against commercial targets for financial gain," Europol officials warned.
The focus on Webstresser's customers is the latest phase of "Operation Power Off," which targeted one of the most active services for launching point-and-click distributed denial-of-service (DDoS) attacks. WebStresser was one of many so-called "booter" or "stresser" services — virtual hired muscle that even completely unskilled users can rent to knock nearly any website or Internet user offline.
Operation Power Off is part of a broader law enforcement effort to disrupt the burgeoning booter service industry and to weaken demand for such services. In December, authorities in the United States filed criminal charges against three men accused of running booter services, and orchestrated a coordinated takedown of 15 different booter sites.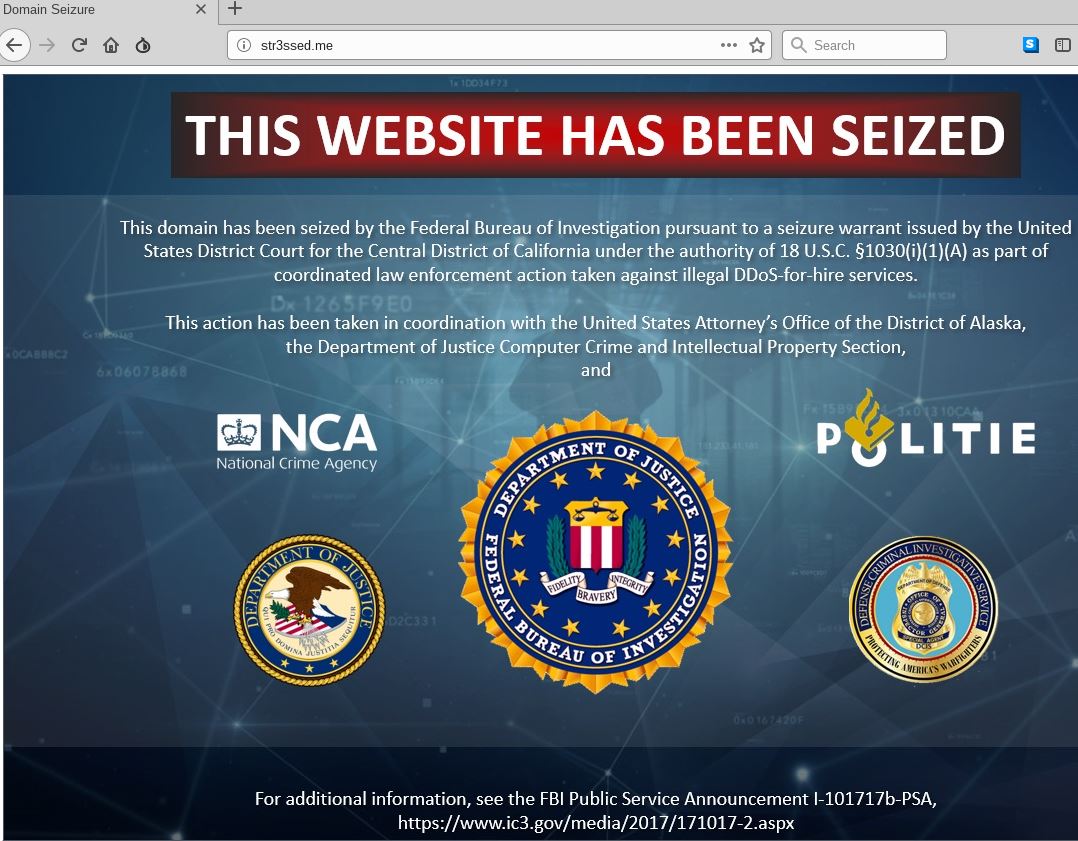 The takedowns come as courts in the United States and Europe are beginning to hand down serious punishment for booter service operators, their customers, and for those convicted of launching large-scale DDoS attacks. Last month, a 34-year-old Connecticut man received a 10-year prison sentence for carrying out DDoS attacks a number of hospitals in 2014. Also last month, a 30-year-old in the United Kingdom was sentenced to 32 months in jail for using an army of hacked devices to crash large portions of Liberia's Internet access in 2016.
In December 2018, the ringleader of an online crime group that launched DDoS attacks against Web sites — including several against KrebsOnSecurity — was sentenced to three years in a U.K. prison. And in 2017, a 20-year-old from Britain was sentenced to two years in jail for renting out Titanium Stresser, a booter service that earned him $300,000 over several years it was in operation.
Many in the hacker community have criticized authorities for targeting booter service administrators and users and for not pursuing what they perceive as more serious cybercriminals, noting that the vast majority of both groups are young men under the age of 21 and are using booter services to settle petty disputes over online games.
But not all countries involved in Operation Power Off are taking such a punitive approach. In the Netherlands, the police and the prosecutor's office have deployed new legal intervention called "Hack_Right," a diversion program intended for first-time cyber offenders. Europol says at least one user of Webstresser has already received this alternative sanction.
"Skills in coding, gaming, computer programming, cyber security or anything IT-related are in high demand and there are many careers and opportunities available to use these wisely," Europol said.
According to U.S. federal prosecutors, the use of booter and stresser services to conduct attacks is punishable under both wire fraud laws and the Computer Fraud and Abuse Act (18 U.S.C. § 1030), and may result in arrest and prosecution, the seizure of computers or other electronics, as well as prison sentences and a penalty or fine.