In-depth security news and investigation
Updated: 1 hour 35 min ago
Companies around the globe are scrambling to comply with new European privacy regulations that take effect a little more than three months from now. But many security experts are worried that the changes being ushered in by the rush to adhere to the law may make it more difficult to track down cybercriminals and less likely that organizations will be willing to share data about new online threats.
On May 25, 2018, the General Data Protection Regulation (GDPR) takes effect. The law, enacted by the European Parliament, requires technology companies to get affirmative consent for any information they collect on people within the European Union. Organizations that violate the GDPR could face fines of up to four percent of global annual revenues.
In response, the Internet Corporation for Assigned Names and Numbers (ICAAN) — the nonprofit entity that manages the global domain name system — is poised to propose changes to the rules governing how much personal information Web site name registrars can collect and who should have access to the data.
Specifically, ICANN has been seeking feedback on a range of proposals to redact information provided in WHOIS, the system for querying databases that store the registered users of domain names and blocks of Internet address ranges (IP addresses).
Under current ICANN rules, domain name registrars should collect and display a variety of data points when someone performs a WHOIS lookup on a given domain, such as the registrant's name, address, email address and phone number. (Most registrars offer a privacy protection service that shields this information from public WHOIS lookups; some registrars charge a nominal fee for this service, while others offer it for free).
In a bid to help domain registrars comply with the GDPR regulations, ICANN has floated several proposals, all of which would redact some of the registrant data from WHOIS records. Its mildest proposal would remove the registrant's name, email, and phone number, while allowing self-certified 3rd parties to request access to said data at the approval of a higher authority — such as the registrar used to register the domain name.
The most restrictive proposal would remove all registrant data from public WHOIS records, and would require legal due process (such as a subpoena or court order) to reveal any information supplied by the domain registrant.
The full text of ICANN's latest proposed models (from which the screenshot above was taken) can be found here (PDF). A diverse ICANN working group made up of privacy activists, technologists, lawyers, trademark holders and security experts has been arguing about these details since 2016. For the curious and/or intrepid, the entire archive of those debates up to the current day is available at this link.
WHAT IS THE WHOIS DEBATE?
To drastically simplify the discussions into two sides, those in the privacy camp say WHOIS records are being routinely plundered and abused by all manner of ne'er-do-wells, including spammers, scammers, phishers and stalkers. In short, their view seems to be that the availability of registrant data in the WHOIS records causes more problems than it is designed to solve.
Meanwhile, security experts are arguing that the data in WHOIS records has been indispensable in tracking down and bringing to justice those who seek to perpetrate said scams, spams, phishes and….er….stalks.
Many privacy advocates seem to take a dim view of any ICANN system by which third parties (and not just law enforcement officials) might be vetted or accredited to look at a domain registrant's name, address, phone number, email address, etc. This sentiment is captured in public comments made by the Electronic Frontier Foundation's Jeremy Malcolm, who argued that — even if such information were only limited to anti-abuse professionals — this also wouldn't work.
"There would be nothing to stop malicious actors from identifying as anti-abuse professionals – neither would want to have a system to 'vet' anti-abuse professionals, because that would be even more problematic," Malcolm wrote in October 2017. "There is no added value in collecting personal information – after all, criminals are not going to provide correct information anyway, and if a domain has been compromised then the personal information of the original registrant isn't going to help much, and its availability in the wild could cause significant harm to the registrant."
Anti-abuse and security experts counter that there are endless examples of people involved in spam, phishing, malware attacks and other forms of cybercrime who include details in WHOIS records that are extremely useful for tracking down the perpetrators, disrupting their operations, or building reputation-based systems (such as anti-spam and anti-malware services) that seek to filter or block such activity.
Moreover, they point out that the overwhelming majority of phishing is performed with the help of compromised domains, and that the primary method for cleaning up those compromises is using WHOIS data to contact the victim and/or their hosting provider.
Many commentators observed that, in the end, ICANN is likely to proceed in a way that covers its own backside, and that of its primary constituency — domain registrars. Registrars pay a fee to ICANN for each domain a customer registers, although revenue from those fees has been falling of late, forcing ICANN to make significant budget cuts.
Some critics of the WHOIS privacy effort have voiced the opinion that the registrars generally view public WHOIS data as a nuisance issue for their domain registrant customers and an unwelcome cost-center (from being short-staffed to field a constant stream of abuse complaints from security experts, researchers and others in the anti-abuse community).
"Much of the registrar market is a race to the bottom, and the ability of ICANN to police the contractual relationships in that market effectively has not been well-demonstrated over time," political blogger Andrew Sullivan observed.
In any case, sources close to the debate tell KrebsOnSecurity that ICANN is poised to recommend a WHOIS model loosely based on Model 1 in the chart above.
Specifically, the system that ICANN is planning to recommend, according to sources, would ask registrars and registries to display just the domain name, city, state/province and country of the registrant in each record; the public email addresses would be replaced by a form or message relay link that allows users to contact the registrant. The source also said ICANN plans to leave it up to the registries/registrars to apply these changes globally or only to natural persons living in the European Economic Area (EEA).
In addition, sources say non-public WHOIS data would be accessible via a credentialing system to identify law enforcement agencies and intellectual property rights holders. However, it's unlikely that such a system would be built and approved before the May 25, 2018 effectiveness date for the GDPR, so the rumor is that ICANN intends to propose a self-certification model in the meantime.
ICANN spokesman Brad White declined to confirm or deny any of the above, referring me instead to a blog post published Tuesday evening by ICANN CEO Göran Marby. That post does not, however, clarify which way ICANN may be leaning on the matter.
"Our conversations and work are on-going and not yet final," White wrote in a statement shared with KrebsOnSecurity. "We are converging on a final interim model as we continue to engage, review and assess the input we receive from our stakeholders and Data Protection Authorities (PDAs)."
But with the GDPR compliance deadline looming, some registrars are moving forward with their own plans on WHOIS privacy. GoDaddy, one of the world's largest domain registrars, recently began redacting most registrant data from WHOIS records for domains that are queried via third-party tools. And it seems likely that other registrars will follow GoDaddy's lead.
ANALYSIS
For my part, I can say without hesitation that few resources are as critical to what I do here at KrebsOnSecurity than the data available in the public WHOIS records. WHOIS records are incredibly useful signposts for tracking cybercrime, and they frequently allow KrebsOnSecurity to break important stories about the connections between and identities behind various cybercriminal operations and the individuals/networks actively supporting or enabling those activities. I also very often rely on WHOIS records to locate contact information for potential sources or cybercrime victims who may not yet be aware of their victimization.
In a great many cases, I have found that clues about the identities of those who perpetrate cybercrime can be found by following a trail of information in WHOIS records that predates their cybercriminal careers. Also, even in cases where online abusers provide intentionally misleading or false information in WHOIS records, that information is still extremely useful in mapping the extent of their malware, phishing and scamming operations.
Anyone looking for copious examples of both need only to search this Web site for the term "WHOIS," which yields dozens of stories and investigations that simply would not have been possible without the data currently available in the global WHOIS records.
Many privacy activists involved in to the WHOIS debate have argued that other data related to domain and Internet address registrations — such as name servers, Internet (IP) addresses and registration dates — should also be considered private information. My chief concern if this belief becomes more widely held is that security companies might stop sharing such information for fear of violating the GDPR, thus hampering the important work of anti-abuse and security professionals.
This is hardly a theoretical concern. Last month I heard from a security firm based in the European Union regarding a new Internet of Things (IoT) botnet they'd discovered that was unusually complex and advanced. Their outreach piqued my curiosity because I had already been working with a researcher here in the United States who was investigating a similar-sounding IoT botnet, and I wanted to know if my source and the security company were looking at the same thing.
But when I asked the security firm to share a list of Internet addresses related to their discovery, they told me they could not do so because IP addresses could be considered private data — even after I assured them I did not intend to publish the data.
"According to many forums, IPs should be considered personal data as it enters the scope of 'online identifiers'," the researcher wrote in an email to KrebsOnSecurity, declining to answer questions about whether their concern was related to provisions in the GDPR specifically.  "Either way, it's IP addresses belonging to people with vulnerable/infected devices and sharing them may be perceived as bad practice on our end. We consider the list of IPs with infected victims to be private information at this point."
Certainly as the Internet matures and big companies develop ever more intrusive ways to hoover up data on consumers, we also need to rein in the most egregious practices while giving Internet users more robust tools to protect and preserve their privacy. In the context of Internet security and the privacy principles envisioned in the GDPR, however, I'm worried that cybercriminals may end up being the biggest beneficiaries of this new law.
Microsoft today released a bevy of security updates to tackle more than 50 serious weaknesses in Windows, Internet Explorer/Edge, Microsoft Office and Adobe Flash Player, among other products. A good number of the patches issued today ship with Microsoft's "critical" rating, meaning the problems they fix could be exploited remotely by miscreants or malware to seize complete control over vulnerable systems — with little or no help from users.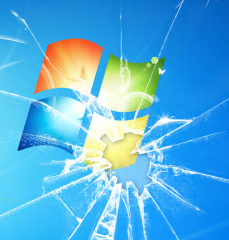 February's Patch Tuesday batch includes fixes for at least 55 security holes. Some of the scarier bugs include vulnerabilities in Microsoft Outlook, Edge and Office that could let bad guys or bad code into your Windows system just by getting you to click on a booby trapped link, document or visit a compromised/hacked Web page.
As per usual, the SANS Internet Storm Center has a handy rundown on the individual flaws, neatly indexing them by severity rating, exploitability and whether the problems have been publicly disclosed or exploited.
One of the updates addresses a pair of serious vulnerabilities in Adobe Flash Player (which ships with the latest version of Internet Explorer/Edge). As KrebsOnSecurity warned last week, there are active attacks ongoing against these Flash vulnerabilities.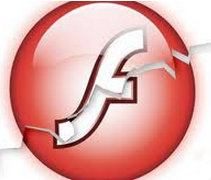 Adobe is phasing out Flash entirely by 2020, but most of the major browsers already take steps to hobble Flash. And with good reason: It's a major security liability. Chrome also bundles Flash, but blocks it from running on all but a handful of popular sites, and then only after user approval.
For Windows users with Mozilla Firefox installed, the browser prompts users to enable Flash on a per-site basis. Through the end of 2017 and into 2018, Microsoft Edge will continue to ask users for permission to run Flash on most sites the first time the site is visited, and will remember the user's preference on subsequent visits.
The latest standalone version of Flash that addresses these bugs is 28.0.0.161 for Windows, Mac, Linux and Chrome OS. But most users probably would be better off manually hobbling or removing Flash altogether, since so few sites actually require it still. Disabling Flash in Chrome is simple enough. Paste "chrome://settings/content" into a Chrome browser bar and then select "Flash" from the list of items. By default it should be set to "Ask first" before running Flash, although users also can disable Flash entirely here or whitelist and blacklist specific sites.
People running Adobe Reader or Acrobat also need to update, as Adobe has shipped new versions of these products that fix at least 39 security holes. Adobe Reader users should know there are alternative PDF readers that aren't so bloated or full of security issues. Sumatra PDF is a good, lightweight alternative.
Experience any issues, glitches or problems installing these updates? Sound off about it in the comments below.
Newtek Business Services Corp. [NASDAQ:NEWT], a Web services conglomerate that operates more than 100,000 business Web sites and some 40,000 managed technology accounts, had several of its core domain names stolen over the weekend. The theft shut off email and stranded Web sites for many of Newtek's customers.
An email blast Newtek sent to customers late Saturday evening made no mention of a breach or incident, saying only that the company was changing domains due to "increased" security. A copy of that message can be read here (PDF).
In reality, three of their core domains were hijacked by a Vietnamese hacker, who replaced the login page many Newtek customers used to remotely manage their Web sites (webcontrolcenter[dot]com) with a live Web chat service. As a result, Newtek customers seeking answers to why their Web sites no longer resolved correctly ended up chatting with the hijacker instead.
In a follow-up email sent to customers 10 hours later (PDF), Newtek acknowledged the outage was the result of a "dispute" over three domains, webcontrolcenter[dot]com, thesba[dot]com, and crystaltech[dot]com.
"We strongly request that you eliminate these domain names from all your corporate or personal browsers, and avoid clicking on them," the company warned its customers. "At this hour, it has become apparent that as a result over the dispute for these three domain names, we do not currently have control over the domains or email coming from them."
The warning continued: "There is an unidentified third party that is attempting to chat and may engage with clients when visiting the three domains. It is imperative that you do not communicate or provide any sensitive data at these locations."
Newtek did not respond to requests for comment.
Domain hijacking is not a new problem, but it can be potentially devastating to the victim organization. In control of a hijacked domain, a malicious attacker could seamlessly conduct phishing attacks to steal personal information, or use the domain to foist malicious software on visitors.
Newtek is not just a large Web hosting firm: It aims to be a one-stop shop for almost any online service a small business might need. As such, it's a mix of very different business units rolled up into one since its founding in 1998, including lending solutions, HR, payroll, managed cloud solutions, group health insurance and disaster recovery solutions.
"NEWT's tentacles go deep into their client's businesses through providing data security, human resources, employee benefits, payments technology, web design and hosting, a multitude of insurance solutions, and a suite of IT services," reads a Sept. 2017 profile of the company at SeekingAlpha, a crowdsourced market analysis publication.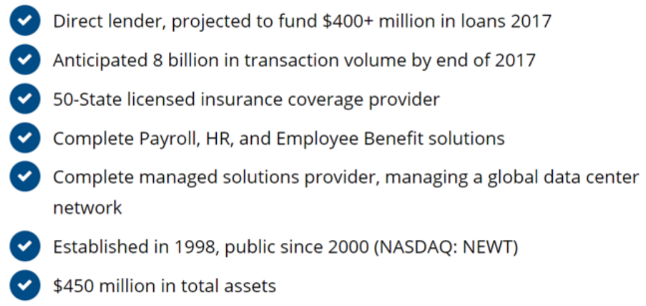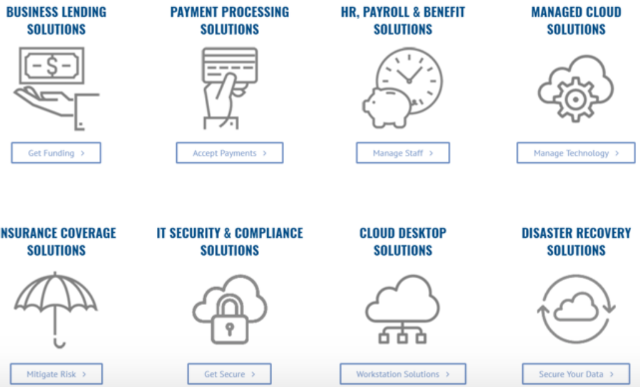 Reached via the Web chat client he installed at webcontrolcenter[dot]com, the person who claimed responsibility for the hijack said he notified Newtek five days ago about a "bug" he found in the company's online operations, but that he received no reply.
A Newtek customer who resells the company's products to his clients said he had to spend much of the weekend helping clients regain access to email accounts and domains as a result of the incident. The customer, who asked to remain anonymous, said he was shocked that Newtek made little effort to convey the gravity of the hijack to its customers — noting that the company's home page still makes no mention of the incident.
"They also fail to make it clear that any data sent to any host under the domain could be recorded (email passwords, web credentials, etc.) by the attacker," he said. "I'm floored at how bad their communication was to their users. I'm not surprised, but concerned, that they didn't publish the content in the emails directly on their website."
The source said that at a minimum Newtek should have expired all passwords immediately and required resets through non-compromised hosts.
"And maybe put a notice about this on their home page instead of relying on email, because a lot of my customers can't get email right now as a result of this," the source said.
There are a few clues that suggest the perpetrator of these domain hijacks is indeed being truthful about both his nationality and that he located a bug in Newtek's service. Two of the hijacked domains were moved to a Vietnamese domain registrar (inet.vn).
This individual gave me an email address to contact him at — hd2416@gmail.com — although he has so far not responded to questions beyond promising to reply in Vietenamese. The email is tied to two different Vietnamese-language social networking profiles.
A search at Domaintools indicates that this address is linked to the registration records for four domains, including one (giakiemnew[dot]com) that was recently hosted on a dedicated server operated by Newtek's legacy business unit Crystaltek [full disclosure: Domaintools is an advertiser on this site]. Recall that Crystaltek[dot]com was among the three hijacked domains.
In addition, the domain giakiemnew[dot]com was registered through Newtek Technology Services, a domain registration service offered by Newtek. This suggests that the perpetrator was in fact a customer of Newtek, and perhaps did discover a vulnerability while using the service.
The U.S. Justice Department announced charges on Wednesday against three dozen individuals thought to be key members of 'Infraud," a long-running cybercrime forum that federal prosecutors say cost consumers more than a half billion dollars. In conjunction with the forum takedown, 13 alleged Infraud members from the United States and six other countries were arrested.

Started in October 2010, Infraud was short for "In Fraud We Trust," and collectively the forum referred to itself as the "Ministry of Fraudulently [sic] Affairs." As a mostly English-language fraud forum, Infraud attracted nearly 11,000 members from around the globe who sold, traded and bought everything from stolen identities and credit card accounts to ATM skimmers, botnet hosting and malicious software.
"Today's indictment and arrests mark one of the largest cyberfraud enterprise prosecutions ever undertaken by the Department of Justice," said John P. Cronan, acting assistant attorney general of the Justice Department's criminal division. "As alleged in the indictment, Infraud operated like a business to facilitate cyberfraud on a global scale."
The complaint released by the DOJ lists 36 Infraud members — some only by their hacker nicknames, others by their alleged real names and handles, and still others just as "John Does." Having been a fairly regular lurker on Infraud over the past seven year who has sought to independently identify many of these individuals, I can say that some of these names and nick associations sound accurate but several do not.
The government says the founder and top member of Infraud was Svyatoslav Bondarenko, a hacker from Ukraine who used the nicknames "Rector" and "Helkern." The first nickname is well supported by copies of the forum obtained by this author several years back; indeed, Rector's profile listed him an administrator, and Rector can be seen on countless Infraud discussion threads vouching for sellers who had paid the monthly fee to advertise their services in "sticky" threads on the forum.
However, I'm not sure the Helkern association with Bondarenko is accurate. In December 2014, just days after breaking the story about the theft of some 40 million credit and debit cards from retail giant Target, KrebsOnSecurity posted a lengthy investigation into the identity of "Rescator" — the hacker whose cybercrime shop was identified as the primary vendor of cards stolen from Target.
That story showed that Rescator changed his nickname from Helkern after Helkern's previous cybercrime forum (Darklife) got massively hacked, and it presented clues indicating that Rescator/Helkern was a different Ukrainian man named Andrey Hodirevski. For more on that connection, see Who's Selling Cards from Target.
Also, Rescator was a separate vendor on Infraud, and there are no indications that I could find suggesting that Rector and Rescator were the same people. Here is Rescator's most recent sales thread for his credit card shop on Infraud — dated almost a year after the Target breach. Notice the last comment on that thread alleges that Rescator had recently been arrested and that his shop was being run by law enforcement officials: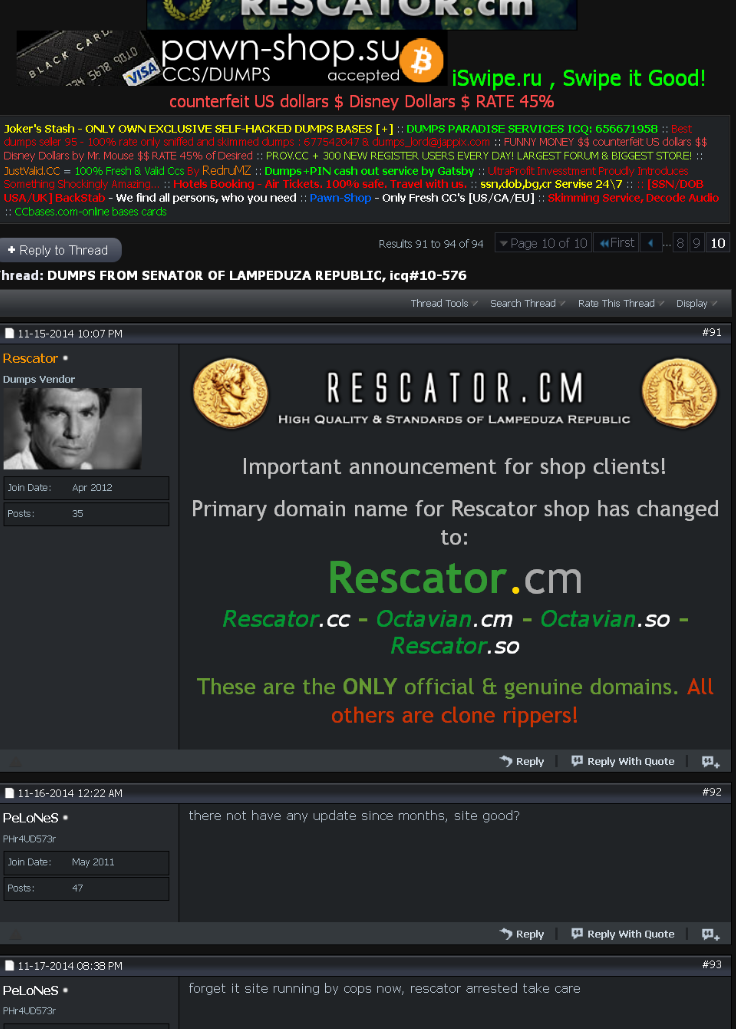 Another top administrator of Infraud used the nickname "Stells." According to the Justice Department, Stells' real name is Sergey Medvedev. The government doesn't describe his exact role, but it appears to have been administering the forum's escrow service (see screenshot below).
Most large cybercrime forums have an escrow service, which holds the buyer's virtual currency until forum administrators can confirm the seller has consummated the transaction acceptably to both parties. The escrow feature is designed to cut down on members ripping one another off — but it also can add considerably to the final price of the item(s) for sale.
In April 2016, Medvedev would take over as the "admin and owner" of Infraud, after he posting a note online saying that Bondarenko had gone missing, the Justice Department said.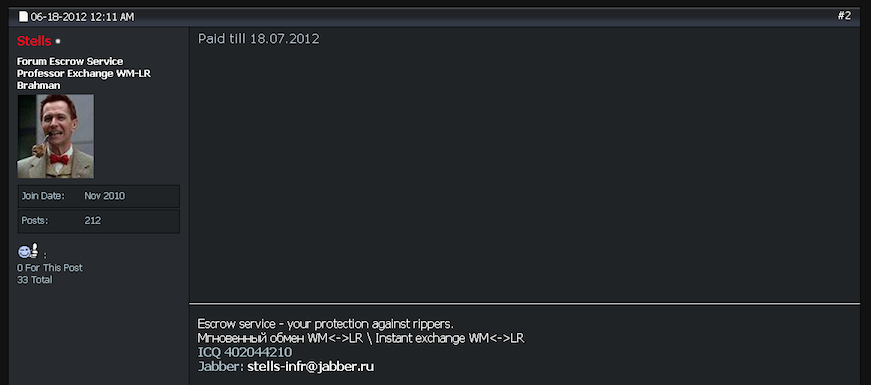 One defendant in the case, a well-known vendor of stolen credit and debit cards who goes by the nickname "Zo0mer," is listed as a John Doe. But according to a New York Times story from 2006, Zo0mer's real name is Sergey Kozerev, and he hails from St. Petersburg, Russia.
The indictments also list two other major vendors of stolen credit and debit cards: hackers who went by the nicknames "Unicc" and "TonyMontana" (the latter being a reference to the fictional gangster character played by Al Pacino in the 1983 movie Scarface). Both hackers have long operated and operate to this day their own carding shops: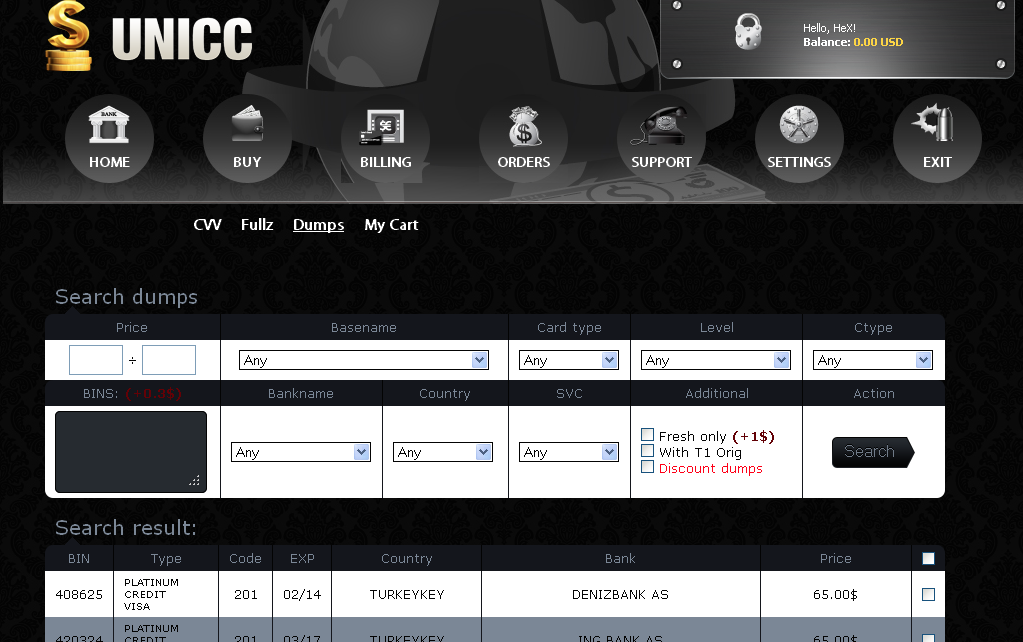 The government says Unicc's real name is Andrey Sergeevich Novak. TonyMontana is listed in the complaint as John Doe #1.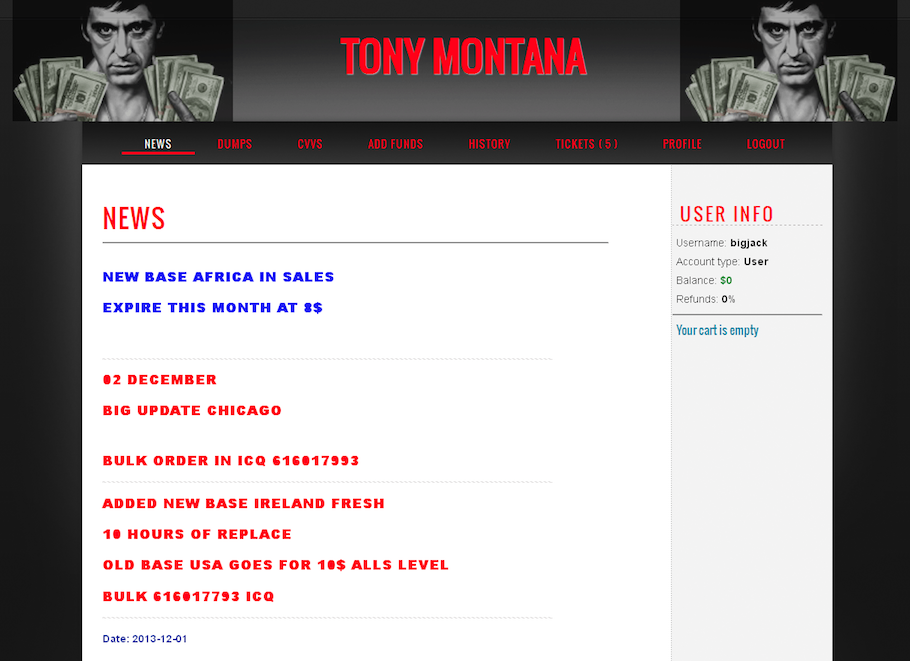 Perhaps the most successful vendor of skimming devices made to be affixed to ATMs and fuel pumps was a hacker known on Infraud and other crime forums as "Rafael101." Several of my early stories about new skimming innovations came from discussions with Rafael in which this author posed as an interested buyer and asked for videos, pictures and technical descriptions of his skimming devices.
A confidential source who asked not to be named told me a few years back that Rafael had used the same password for his skimming sales accounts on multiple competing cybercrime forums. When one of those forums got hacked, it enabled this source to read Rafael's emails (Rafael evidently used the same password for his email account as well).
The source said the emails showed Rafael was ordering the parts for his skimmers in bulk from Chinese e-commerce giant Alibaba, and that he charged a significant markup on the final product. The source said Rafael had the packages all shipped to a Jose Gamboa in Norwalk, Calif — a suburb of Los Angeles. Sure enough, the indictment unsealed this week says Rafael's real name is Jose Gamboa and that he is from Los Angeles.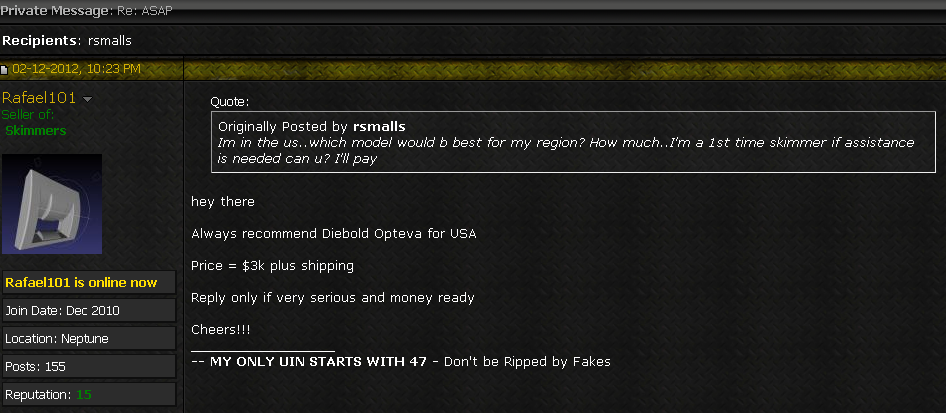 The Justice Department says the arrests in this case took place in Australia, France, Italy, Kosovo, Serbia, the United Kingdom and the United States. The defendants face a variety of criminal charges, including identity theft, bank fraud, wire fraud and money laundering. A copy of the indictment is available here.
When you realize how easy it is for thieves to compromise an ATM or credit card terminal with skimming devices, it's difficult not to inspect or even pull on these machines when you're forced to use them personally — half expecting something will come detached. For those unfamiliar with the stealth of these skimming devices and the thieves who install them, read on.
Police in Lower Pottsgrove, PA are searching for a pair of men who've spent the last few months installing card and PIN skimmers at checkout lanes inside of Aldi supermarkets in the region. These are "overlay" skimmers, in that they're designed to be installed in the blink of an eye just by placing them over top of the customer-facing card terminal.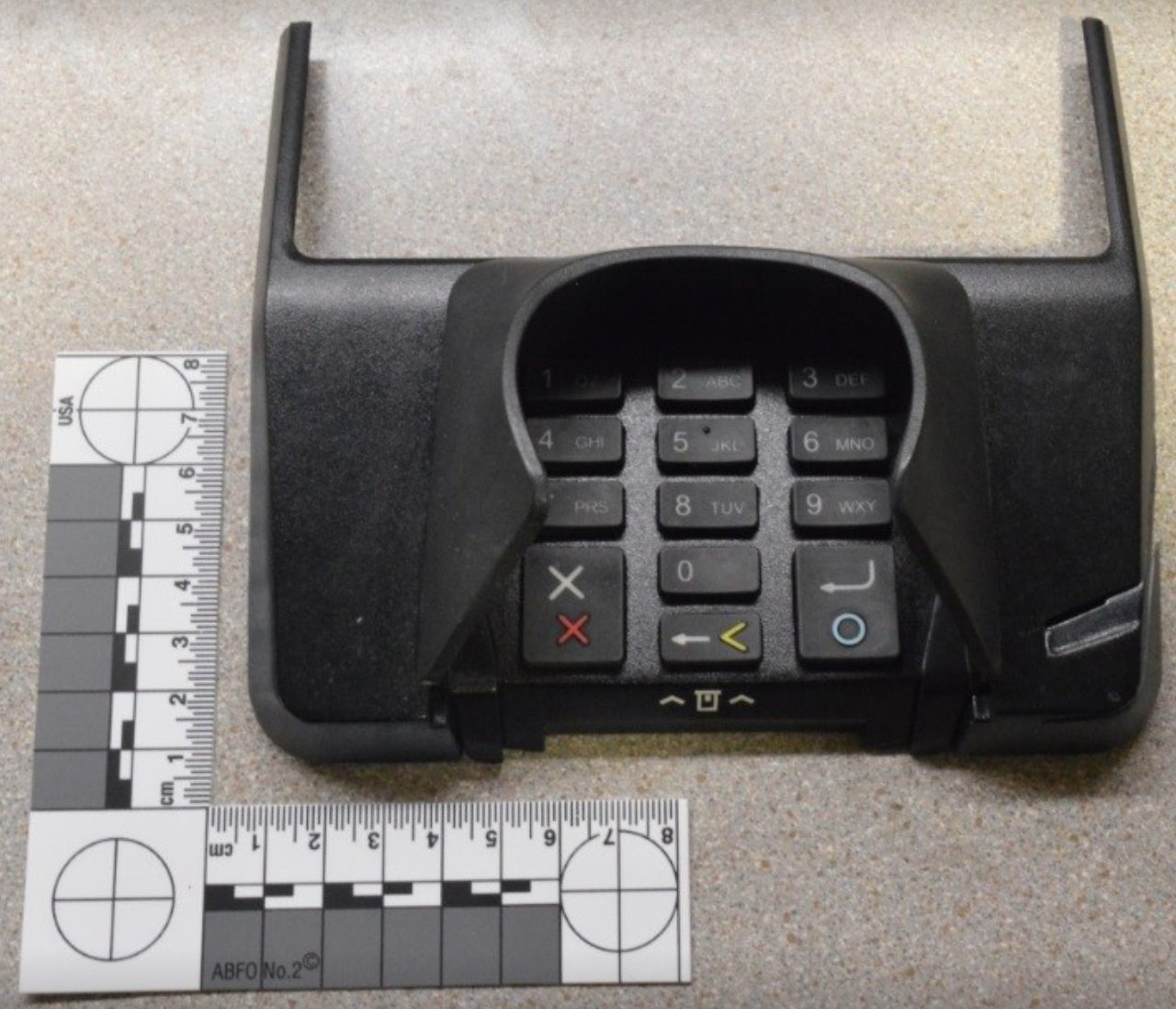 The underside of the skimmer hides the brains of this little beauty, which is configured to capture the personal identification number (PIN) of shoppers who pay for their purchases with a debit card. This likely describes a great number of loyal customers at Aldi; the discount grocery chain only in 2016 started accepting credit cards, and previously only took cash, debit cards, SNAP, and EBT cards.
The Lower Pottsgrove police have been asking local citizens for help in identifying the men spotted on surveillance cameras installing the skimming devices, noting that multiple victims have seen their checking accounts cleaned out after paying at compromised checkout lanes.
Local police released the following video footage showing one of the suspects installing an overlay skimmer exactly like the one pictured above. The man is clearly nervous and fidgety with his feet, but the cashier can't see his little dance and certainly doesn't notice the half second or so that it takes him to slip the skimming device over top of the payment terminal.
I realize a great many people use debit cards for everyday purchases, but I've never been interested in assuming the added risk and so pay for everything with cash or a credit card. Armed with your PIN and debit card data, thieves can clone the card and pull money out of your account at an ATM. Having your checking account emptied of cash while your bank sorts out the situation can be a huge hassle and create secondary problems (bounced checks, for instance).
The Lower Pottsgrove Police have been admonishing people for blaming Aldi for the incidents, saying the thieves are extremely stealthy and that this type of crime could hit virtually any grocery chain.
While Aldi payment terminals in the United States are capable of accepting more secure chip-based card transactions, the company has yet to enable chip payments (although it does accept mobile contactless payment methods such as Apple Pay and Google Pay). This is important because these overlay skimmers are designed to steal card data stored on the magnetic stripe when customers swipe their cards.
However, many stores that have chip-enabled terminals are still forcing customers to swipe the stripe instead of dip the chip.
Want to learn more about self-checkout skimmers? Check out these other posts:
How to Spot Ingenico Self-Checkout Skimmers
Self-Checkout Skimmers Go Bluetooth
More on Bluetooth Ingenico Overlay Skimmers
Safeway Self-Checkout Skimmers Up Close
Peter Yuryevich Levashov, a 37-year-old Russian computer programmer thought to be one of the world's most notorious spam kingpins, has been extradited to the United States to face federal hacking and spamming charges.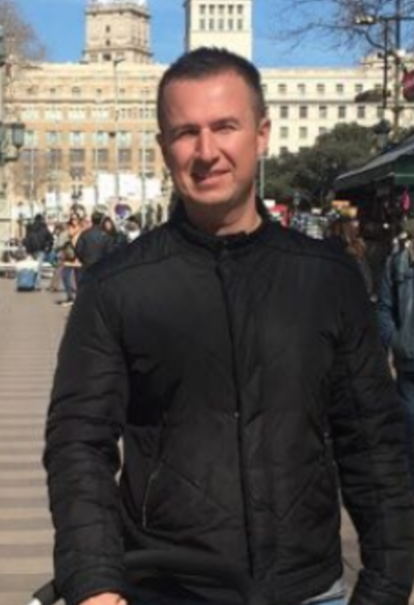 Levashov, who allegedly went by the hacker names "Peter Severa," and "Peter of the North," hails from St. Petersburg in northern Russia, but he was arrested last year while in Barcelona, Spain with his family.
Authorities have long suspected he is the cybercriminal behind the once powerful spam botnet known as Waledac (a.k.a. "Kelihos"), a now-defunct malware strain responsible for sending more than 1.5 billion spam, phishing and malware attacks each day.
According to a statement released by the U.S. Justice Department, Levashov was arraigned last Friday in a federal court in New Haven, Ct. Levashov's New York attorney Igor Litvak said he is eager to review the evidence against Mr. Levashov, and that while the indictment against his client is available, the complaint in the case remains sealed.
"We haven't received any discovery, we have no idea what the government is relying on to bring these allegations," Litvak said. "Mr. Levashov maintains his innocence and is looking forward to resolving this case, clearing his name, and returning home to his wife and 5-year-old son in Spain."
In 2010, Microsoft — in tandem with a number of security researchers — launched a combined technical and legal sneak attack on the Waledac botnet, successfully dismantling it. The company would later do the same to the Kelihos botnet, a global spam machine which shared a great deal of computer code with Waledac.
Severa routinely rented out segments of his Waledac botnet to anyone seeking a vehicle for sending spam. For $200, vetted users could hire his botnet to blast one million pieces of spam. Junk email campaigns touting employment or "money mule" scams cost $300 per million, and phishing emails could be blasted out through Severa's botnet for the bargain price of $500 per million.
Waledac first surfaced in April 2008, but many experts believe the spam-spewing machine was merely an update to the Storm worm, the engine behind another massive spam botnet that first surfaced in 2007. Both Waledac and Storm were major distributors of pharmaceutical and malware spam.
According to Microsoft, in one month alone approximately 651 million spam emails attributable to Waledac/Kelihos were directed to Hotmail accounts, including offers and scams related to online pharmacies, imitation goods, jobs, penny stocks, and more. The Storm worm botnet also sent billions of messages daily and infected an estimated one million computers worldwide.
Both Waledac/Kelihos and Storm were hugely innovative because they each included self-defense mechanisms designed specifically to stymie security researchers who might try to dismantle the crime machines.
Waledac and Storm sent updates and other instructions via a peer-to-peer communications system not unlike popular music and file-sharing services. Thus, even if security researchers or law-enforcement officials manage to seize the botnet's back-end control servers and clean up huge numbers of infected PCs, the botnets could respawn themselves by relaying software updates from one infected PC to another.
FAKE NEWS
According to a lengthy April 2017 story in Wired.com about Levashov's arrest and the takedown of Waledac, Levashov got caught because he violated a basic security no-no: He used the same log-in credentials to both run his criminal enterprise and log into sites like iTunes.
After Levashov's arrest, numerous media outlets quoted his wife saying he was being rounded up as part of a dragnet targeting Russian hackers thought to be involved in alleged interference in the 2016 U.S. election. Russian news media outlets made much hay over this claim. In contesting his extradition to the United States, Levashov even reportedly told the RIA Russian news agency that he worked for Russian President Vladimir Putin's United Russia party, and that he would die within a year of being extradited to the United States.
"If I go to the U.S., I will die in a year," Levashov is quoted as saying. "They want to get information of a military nature and about the United Russia party. I will be tortured, within a year I will be killed, or I will kill myself."
But there is so far zero evidence that anyone has accused Levashov of being involved in election meddling. However, the Waledac/Kelihos botnet does have a historic association with election meddling: It was used during the Russian election in 2012 to send political messages to email accounts on computers with Russian Internet addresses. Those emails linked to fake news stories saying that Mikhail D. Prokhorov, a businessman who was running for president against Putin, had come out as gay.
SEVERA'S PARTNERS
If Levashov was to plead guilty in the case being prosecuted by U.S. authorities, it could shed light on the real-life identities of other top spammers.
Severa worked very closely with two major purveyors of spam. One was Alan Ralsky, an American spammer who was convicted in 2009 of paying him and other spammers to promote the pump-and-dump stock scams.
The other was a spammer who went by the nickname "Cosma," the cybercriminal thought to be responsible for managing the Rustock botnet (so named because it was a Russian botnet frequently used to send pump-and-dump stock spam). In 2011, Microsoft offered a still-unclaimed $250,000 reward for information leading to the arrest and conviction of the Rustock author.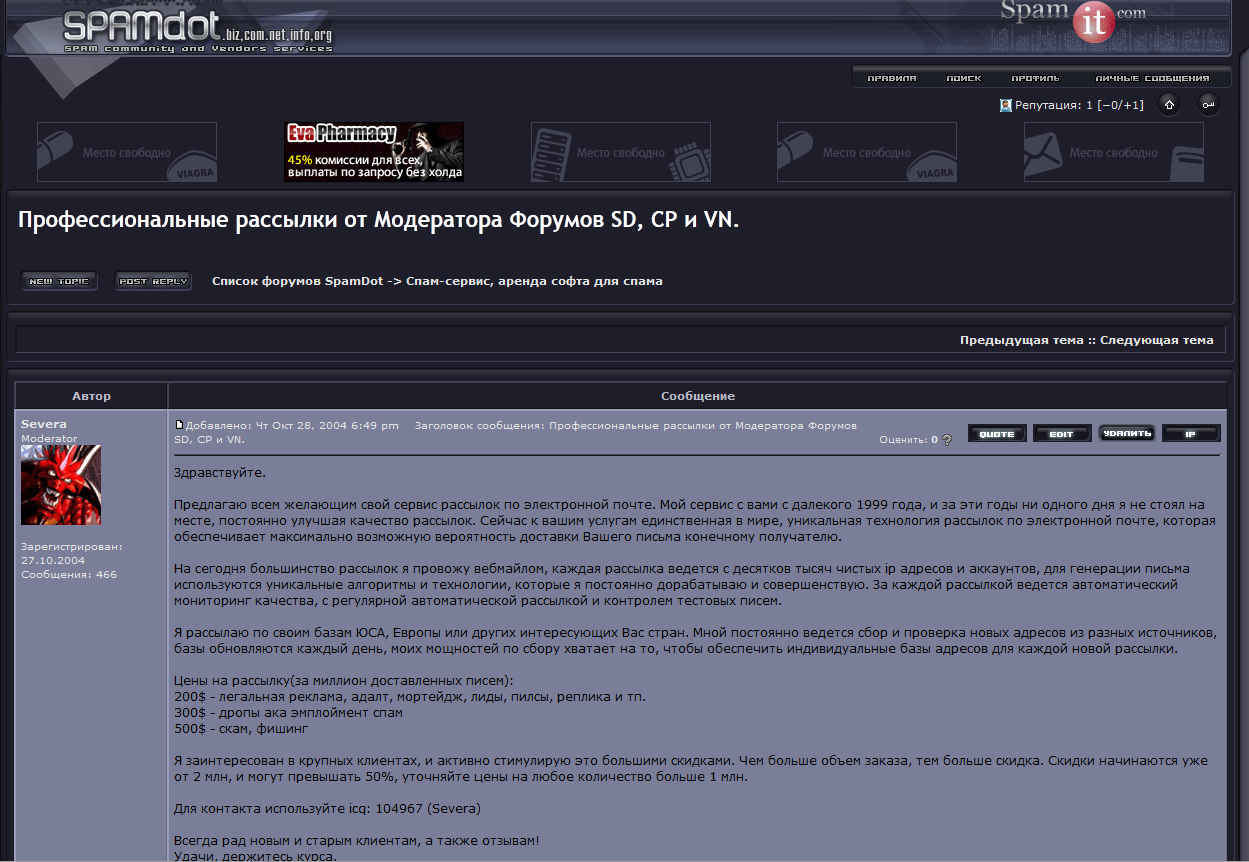 Microsoft believes Cosma's real name may be Dmitri A. Sergeev, Artem Sergeev, or Sergey Vladomirovich Sergeev. In June 2011, KrebsOnSecurity published a brief profile of Cosma that included Sergeev's resume and photo, both of which indicated he is a Belorussian programmer who once sought a job at Google. For more on Cosma, see "Flashy Car Got Spam Kingpin Mugged."
Severa and Cosma had met one another several times in their years together in the stock spamming business, and they appear to have known each other intimately enough to be on a first-name basis. Both of these titans of junk email are featured prominently in "Meet the Spammers," the 7th chapter of my book, Spam Nation: The Inside Story of Organized Cybercrime.
Much like his close associate — Cosma, the Rustock botmaster — Severa may also have a $250,000 bounty on his head, albeit indirectly. The Conficker worm, a global contagion launched in 2009 that quickly spread to an estimated 9 to 15 million computers worldwide, prompted an unprecedented international response from security experts. This group of experts, dubbed the "Conficker Cabal," sought in vain to corral the spread of the worm.
But despite infecting huge numbers of Microsoft Windows systems, Conficker was never once used to send spam. In fact, the only thing that Conficker-infected systems ever did was download and spread a new version of the the malware that powered the Waledac botnet. Later that year, Microsoft announced it was offering a $250,000 reward for information leading to the arrest and conviction of the Conficker author(s). Some security experts believe this proves a link between Severa and Conficker.
Both Cosma and Severa were quite active on Spamit[dot]com, a once closely-guarded forum for Russian spammers. In 2010, Spamit was hacked, and a copy of its database was shared with this author. In that database were all private messages between Spamit members, including many between Cosma and Severa. For more on those conversations, see "A Closer Look at Two Big Time Botmasters."
In addition to renting out his spam botnet, Severa also managed multiple affiliate programs in which he paid other cybercriminals to distribute so-called fake antivirus products. Also known as "scareware," fake antivirus was at one time a major scourge, using false and misleading pop-up alerts to trick and mousetrap unsuspecting computer users into purchasing worthless (and in many cases outright harmful) software disguised as antivirus software.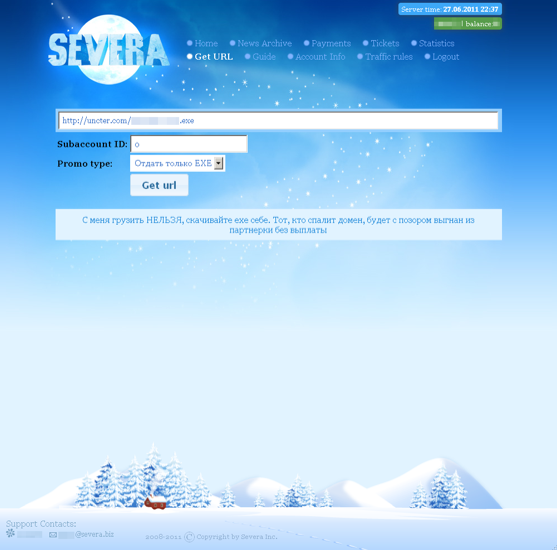 In 2011, KrebsOnSecurity published Spam & Fake AV: Like Ham & Eggs, which sought to illustrate the many ways in which the spam industry and fake antivirus overlapped. That analysis included data from Brett Stone-Gross, a cybercrime expert who later would assist Microsoft and other researchers in their successful efforts to dismantle the Waledac/Kelihos botnet.
Levashov faces federal criminal charges on eight counts, including aggravated identity theft, wire fraud, conspiracy, and intentional damage to protected computers. The indictment in his case is available here (PDF).
Further reading: Mr Waledac — The Peter North of Spamming
Adobe warned on Thursday that attackers are exploiting a previously unknown security hole in its Flash Player software to break into Microsoft Windows computers. Adobe said it plans to issue a fix for the flaw in the next few days, but now might be a good time to check your exposure to this still-ubiquitous program and harden your defenses.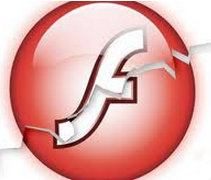 Adobe said a critical vulnerability (CVE-2018-4878) exists in Adobe Flash Player 28.0.0.137 and earlier versions. Successful exploitation could allow an attacker to take control of the affected system.
The software company warns that an exploit for the flaw is being used in the wild, and that so far the attacks leverage Microsoft Office documents with embedded malicious Flash content. Adobe said it plans to address this vulnerability in a release planned for the week of February 5.
According to Adobe's advisory, beginning with Flash Player 27, administrators have the ability to change Flash Player's behavior when running on Internet Explorer on Windows 7 and below by prompting the user before playing Flash content. A guide on how to do that is here (PDF). Administrators may also consider implementing Protected View for Office. Protected View opens a file marked as potentially unsafe in Read-only mode.
Hopefully, most readers here have taken my longstanding advice to disable or at least hobble Flash, a buggy and insecure component that nonetheless ships by default with Google Chrome and Internet Explorer. More on that approach (as well as slightly less radical solutions) can be found in A Month Without Adobe Flash Player. The short version is that you can probably get by without Flash installed and not miss it at all.
For readers still unwilling to cut the Flash cord, there are half-measures that work almost as well. Fortunately, disabling Flash in Chrome is simple enough. Paste "chrome://settings/content" into a Chrome browser bar and then select "Flash" from the list of items. By default it should be set to "Ask first" before running Flash, although users also can disable Flash entirely here or whitelist and blacklist specific sites.
By default, Mozilla Firefox on Windows computers with Flash installed runs Flash in a "protected mode," which prompts the user to decide if they want to enable the plugin before Flash content runs on a Web site.
Another, perhaps less elegant, alternative to wholesale kicking Flash to the curb is to keeping it installed in a browser that you don't normally use, and then only using that browser on sites that require Flash.
On Jan. 27, 2018, KrebsOnSecurity published what this author thought a scoop about the first known incidence of U.S. ATMs being hit with "jackpotting" attacks, a crime in which thieves deploy malware that forces cash machines to spit out money like a loose Las Vegas slot machine. As it happens, the first known jackpotting attacks in the United States were reported in November 2017 by local media on the west coast, although the reporters in those cases seem to have completely buried the lede.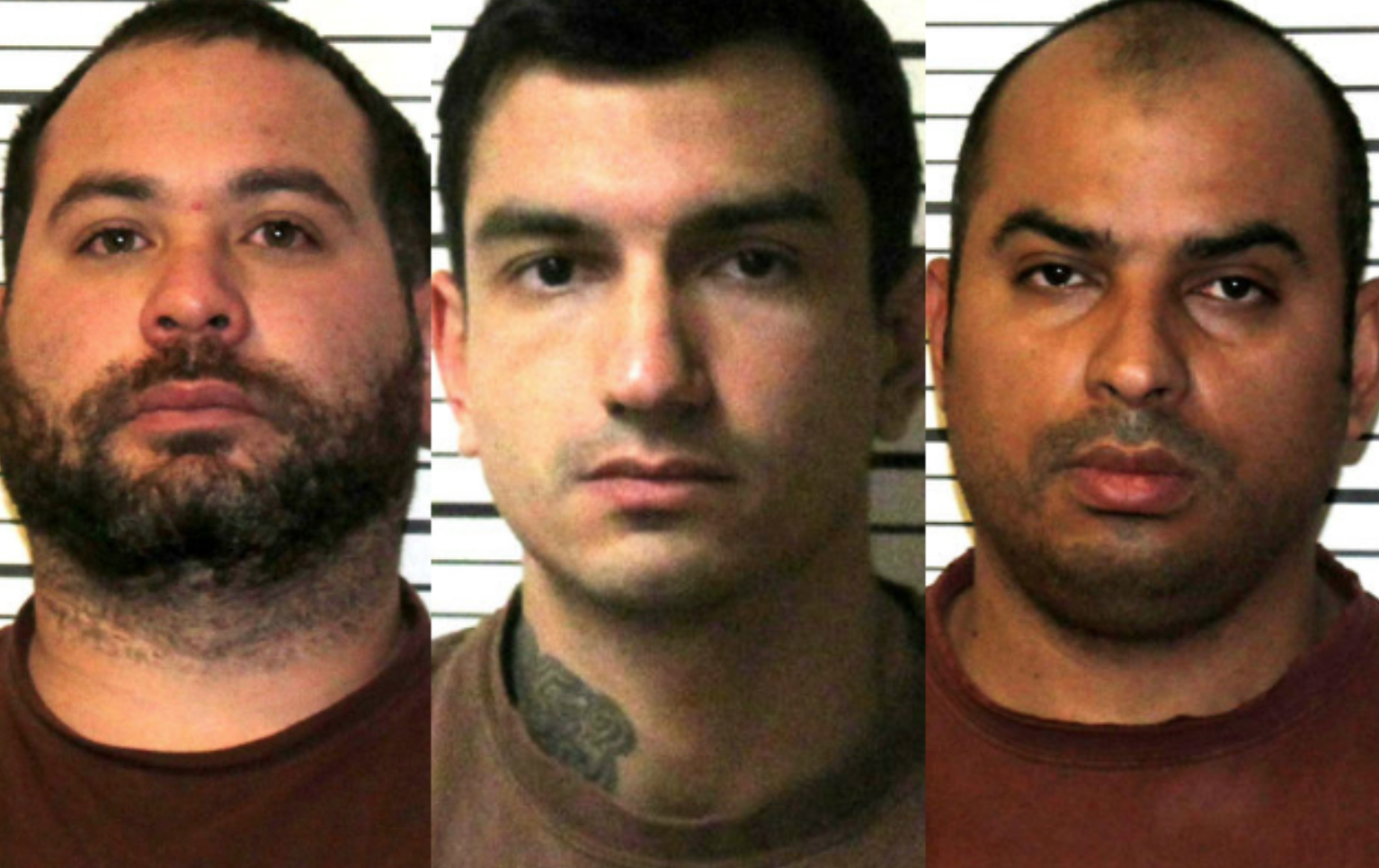 On Nov. 20, 2017, Oil City News — a community publication in Wyoming — reported on the arrest of three Venezuelan nationals who were busted on charges of marijuana possession after being stopped by police.
After pulling over the van the men were driving, police on the scene reportedly detected the unmistakable aroma of pot smoke wafting from the vehicle. When the cops searched the van, they discovered small amounts of pot, THC edible gummy candies, and several backpacks full of cash.
FBI agents had already been looking for the men, who were allegedly caught on surveillance footage tinkering with cash machines in Wyoming, Colorado and Utah, shortly before those ATMs were relieved of tens of thousands of dollars.
According to a complaint filed in the U.S. District Court for the District of Colorado, the men first hit an ATM at a credit union in Parker, Colo. on October 10, 2017. The robbery occurred after business hours, but the cash machine in question was located in a vestibule available to customers 24/7.
The complaint says surveillance videos showed the men opening the top of the ATM, which housed the computer and hard drive for the ATM — but not the secured vault where the cash was stored. The video showed the subjects reaching into the ATM, and then closing it and exiting the vestibule. On the video, one of the subjects appears to be carrying an object consistent with the size and appearance of the hard drive from the ATM.
Approximately ten minutes later, the subjects returned and opened up the cash machine again. Then they closed the top of the ATM and appeared to wait while the ATM computer restarted. After that, both subjects could be seen on the video using their mobile phones. One of the subjects reportedly appeared to be holding a small wireless mini-computer keyboard.
Soon after, the ATM began spitting out cash, netting the thieves more than $24,000. When they they were done, the suspects allegedly retrieved their equipment from the ATM and left.
Forensic analysis of the ATM hard drive determined that the thieves installed the Ploutus.D malware on the cash machine's hard drive. Ploutus.D is an advanced malware strain that lets crooks interact directly with the ATM's computer and force it to dispense money.
"Often the malware requires entering of codes to dispense cash," reads an FBI affidavit (PDF). "These codes can be obtained by a third party, not at the location, who then provides the codes to the subjects at the ATM. This allows the third party to know how much cash is dispensed from the ATM, preventing those who are physically at the ATM from keeping cash for themselves instead of providing it to the criminal organization. The use of mobile phones is often used to obtain these dispensing codes."
In November 2017, similar ATM jackpotting attacks were discovered in the Saint George, Utah area. Surveillance footage from those ATMs showed the same subjects were at work.
The FBI's investigation determined that the vehicles used by the suspects in the Utah thefts were rented by Venezuelan nationals.
On Nov. 16, Isaac Rafael Jorge Romero, 29, Jose Alejandro Osorio Echegaray, 36, and two other Venezuelan nationals were arrested Teton County, Wyo. on drug charges. Two other suspects in the Utah theft were arrested in San Diego when they tried to return a rental car that was caught on surveillance camera at one of the hacked ATMs.
To carry out a jackpotting attack, thieves first must gain physical access to the cash machine. From there they can use malware or specialized electronics — often a combination of both — to control the operations of the ATM.
All of the known ATM jackpotting attacks in the U.S. so far appear to be targeting a handful of older model cash machines manufactured by ATM giant Diebold Nixdorf. However, security firm FireEye notes that — with minor modifications to the malware code — Plotus.D could be used to target software that runs on 40 different ATM vendors in 80 countries.
Diebold's advisory on hardening ATMs against jackpotting attacks is available here (PDF).
Jackpotting is not a new crime: Indeed, it has been a problem for ATM operators in most of the world for many years now. But for some reason, jackpotting attacks have until recently eluded U.S. ATM operators.
Jackpotting has been a real threat to ATM owners and manufacturers since at least 2010, when the late security researcher Barnaby Michael Douglas Jack (known to most as simply "Barnaby Jack") demonstrated the attack to a cheering audience at the Black Hat security conference. A recording of that presentation is below.
Today, Jan. 29, is officially the first day of the 2018 tax-filing season, also known as the day fraudsters start requesting phony tax refunds in the names of identity theft victims. Want to minimize the chances of getting hit by tax refund fraud this year? File your taxes before the bad guys can!
Tax refund fraud affects hundreds of thousands, if not millions, of U.S. citizens annually. Victims usually first learn of the crime after having their returns rejected because scammers beat them to it. Even those who are not required to file a return can be victims of refund fraud, as can those who are not actually due a refund from the IRS.

According to the IRS, consumer complaints over tax refund fraud have been declining steadily over the years as the IRS and states enact more stringent measures for screening potentially fraudulent applications.
If you file your taxes electronically and the return is rejected, and if you were the victim of identity theft (e.g., if your Social Security number and other information was leaked in the Equifax breach last year), you should submit an Identity Theft Affidavit (Form 14039). The IRS advises that if you suspect you are a victim of identity theft, continue to pay your taxes and file your tax return, even if you must do so by paper.
If the IRS believes you were likely the victim of tax refund fraud in the previous tax year they will likely send you a special filing PIN that needs to be entered along with this year's return before the filing will be accepted by the IRS electronically. This year marks the third out of the last five that I've received one of these PINs from the IRS.
Of course, filing your taxes early to beat the fraudsters requires one to have all of the tax forms needed to do so. As a sole proprietor, this is a great challenge because many companies take their sweet time sending out 1099 forms and such (even though they're required to do so by Jan. 31).
A great many companies are now turning to online services to deliver tax forms to contractors, employees and others. For example, I have received several notices via email regarding the availability of 1099 forms online; most say they are sending the forms in snail mail, but that if I need them sooner I can get them online if I just create an account or enter some personal information at some third-party site.
Having seen how so many of these sites handle personal information, I'm not terribly interested in volunteering more of it. According to Bankrate, taxpayers can still file their returns even if they don't yet have all of their 1099s — as long as you have the correct information about how much you earned.
"Unlike a W-2, you generally don't have to attach 1099s to your tax return," Bankrate explains. "They are just issued so you'll know how much to report, with copies going to the IRS so return processors can double-check your entries. As long as you have the correct information, you can put it on your tax form without having the statement in hand."
In past tax years, identity thieves have used data gleaned from a variety of third-party and government Web sites to file phony tax refund requests — including from the IRS itself! One of their perennial favorites was the IRS's Get Transcript service, which previously had fairly lax authentication measures.
After hundreds of thousands of taxpayers had their tax data accessed through the online tool, the IRS took it offline for a bit and then brought it back online but requiring a host of new data elements.
But many of those elements — such as your personal account number from a credit card, mortgage, home equity loan, home equity line of credit or car loan — can be gathered from multiple locations online with almost no authentication. For example, earlier this week I heard from Jason, a longtime reader who was shocked at how little information was required to get a copy of his 2017 mortgage interest statement from his former lender.
"I called our old mortgage company (Chase) to retrieve our 1098 from an old loan today," Jason wrote. "After I provided the last four digits of the social security # to their IVR [interactive voice response system] that was enough to validate me to request a fax of the tax form, which would have included sensitive information. I asked for a supervisor who explained to me that it was sufficient to check the SSN last 4 + the caller id phone number to validate the account."
If you've taken my advice and placed a security freeze on your credit file with the major credit bureaus, you don't have to worry about thieves somehow bypassing the security on the IRS's Get Transcript site. That's because the IRS uses Equifax to ask a series of knowledge-based authentication questions before an online account can even be created at the IRS's site to access the transcript.
Now, anyone who reads this site regularly should know I've been highly critical of these KBA questions as a means of authentication. But the upshot here is that if you have a freeze in place at Equifax (and I sincerely hope you do), Equifax won't even be able to ask those questions. Thus, thieves should not be able to create an account in your name at the IRS's site.
While you're getting your taxes in order this filing season, be on guard against fake emails or Web sites that may try to phish your personal or tax data. The IRS stresses that it will never initiate contact with taxpayers about a bill or refund. If you receive a phishing email that spoofs the IRS, consider forwarding it to phishing@irs.gov.
Finally, tax season also is when the phone-based tax scams kick into high gear, with fraudsters threatening taxpayers with arrest, deportation and other penalties if they don't make an immediate payment over the phone. If you care for older parents or relatives, this may be a good time to remind them about these and other phone-based scams.
ATM "jackpotting" — a sophisticated crime in which thieves install malicious software and/or hardware at ATMs that forces the machines to spit out huge volumes of cash on demand — has long been a threat for banks in Europe and Asia, yet these attacks somehow have eluded U.S. ATM operators. But all that changed this week after the U.S. Secret Service quietly began warning financial institutions that jackpotting attacks have now been spotted targeting cash machines here in the United States.
To carry out a jackpotting attack, thieves first must gain physical access to the cash machine. From there they can use malware or specialized electronics — often a combination of both — to control the operations of the ATM.
On Jan. 21, 2018, KrebsOnSecurity began hearing rumblings about jackpotting attacks, also known as "logical attacks," hitting U.S. ATM operators. I quickly reached out to ATM giant NCR Corp. to see if they'd heard anything. NCR said at the time it had received unconfirmed reports, but nothing solid yet.
On Jan. 26, NCR sent an advisory to its customers saying it had received reports from the Secret Service and other sources about jackpotting attacks against ATMs in the United States.
"While at present these appear focused on non-NCR ATMs, logical attacks are an industry-wide issue," the NCR alert reads. "This represents the first confirmed cases of losses due to logical attacks in the US. This should be treated as a call to action to take appropriate steps to protect their ATMs against these forms of attack and mitigate any consequences."
The NCR memo does not mention the type of jackpotting malware used against U.S. ATMs. But a source close to the matter said the Secret Service is warning that organized criminal gangs have been attacking stand-alone ATMs in the United States using "Ploutus.D," an advanced strain of jackpotting malware first spotted in 2013.
According to that source — who asked to remain anonymous because he was not authorized to speak on the record — the Secret Service has received credible information that crooks are activating so-called "cash out crews" to attack front-loading ATMs manufactured by ATM vendor Diebold Nixdorf.
The source said the Secret Service is warning that thieves appear to be targeting Opteva 500 and 700 series Dielbold ATMs using the Ploutus.D malware in a series of coordinated attacks over the past 10 days, and that there is evidence that further attacks are being planned across the country.
"The targeted stand-alone ATMs are routinely located in pharmacies, big box retailers, and drive-thru ATMs," reads a confidential Secret Service alert sent to multiple financial institutions and obtained by KrebsOnSecurity. "During previous attacks, fraudsters dressed as ATM technicians and attached a laptop computer with a mirror image of the ATMs operating system along with a mobile device to the targeted ATM."
Reached for comment, Diebold shared an alert it sent to customers Friday warning of potential jackpotting attacks in the United States. Diebold's alert confirms the attacks so far appear to be targeting front-loaded Opteva cash machines.
"As in Mexico last year, the attack mode involves a series of different steps to overcome security mechanism and the authorization process for setting the communication with the [cash] dispenser," the Diebold security alert reads. A copy of the entire Diebold alert, complete with advice on how to mitigate these attacks, is available here (PDF).
The Secret Service alert explains that the attackers typically use an endoscope — a slender, flexible instrument traditionally used in medicine to give physicians a look inside the human body — to locate the internal portion of the cash machine where they can attach a cord that allows them to sync their laptop with the ATM's computer.
"Once this is complete, the ATM is controlled by the fraudsters and the ATM will appear Out of Service to potential customers," reads the confidential Secret Service alert.
At this point, the crook(s) installing the malware will contact co-conspirators who can remotely control the ATMs and force the machines to dispense cash.
"In previous Ploutus.D attacks, the ATM continuously dispensed at a rate of 40 bills every 23 seconds," the alert continues. Once the dispense cycle starts, the only way to stop it is to press cancel on the keypad. Otherwise, the machine is completely emptied of cash, according to the alert.
An 2017 analysis of Ploutus.D by security firm FireEye called it "one of the most advanced ATM malware families we've seen in the last few years."
"Discovered for the first time in Mexico back in 2013, Ploutus enabled criminals to empty ATMs using either an external keyboard attached to the machine or via SMS message, a technique that had never been seen before," FireEye's Daniel Regalado wrote.
According to FireEye, the Ploutus attacks seen so far require thieves to somehow gain physical access to an ATM — either by picking its locks, using a stolen master key or otherwise removing or destroying part of the machine.
Regalado says the crime gangs typically responsible for these attacks deploy "money mules" to conduct the attacks and siphon cash from ATMs. The term refers to low-level operators within a criminal organization who are assigned high-risk jobs, such as installing ATM skimmers and otherwise physically tampering with cash machines.
"From there, the attackers can attach a physical keyboard to connect to the machine, and [use] an activation code provided by the boss in charge of the operation in order to dispense money from the ATM," he wrote. "Once deployed to an ATM, Ploutus makes it possible for criminals to obtain thousands of dollars in minutes. While there are some risks of the money mule being caught by cameras, the speed in which the operation is carried out minimizes the mule's risk."
Indeed, the Secret Service memo shared by my source says the cash out crew/money mules typically take the dispensed cash and place it in a large bag. After the cash is taken from the ATM and the mule leaves, the phony technician(s) return to the site and remove their equipment from the compromised ATM.
"The last thing the fraudsters do before leaving the site is to plug the Ethernet cable back in," the alert notes.
FireEye said all of the samples of Ploutus.D it examined targeted Diebold ATMs, but it warned that small changes to the malware's code could enable it to be used against 40 different ATM vendors in 80 countries.
The Secret Service alert says ATMs still running on Windows XP are particularly vulnerable, and it urged ATM operators to update to a version of Windows 7 to defeat this specific type of attack.
This is a quickly developing story and may be updated multiple times over the next few days as more information becomes available.
KrebsOnSecurity has long warned readers to plant your own flag at the my Social Security online portal of the U.S. Social Security Administration (SSA) — even if you are not yet drawing benefits from the agency — because identity thieves have been registering accounts in peoples' names and siphoning retirement and/or disability funds. This is the story of a Midwest couple that took all the right precautions and still got hit by ID thieves who impersonated them to the SSA directly over the phone.
In mid-December 2017 this author heard from Ed Eckenstein, a longtime reader in Oklahoma whose wife Ruth had just received a snail mail letter from the SSA about successfully applying to withdraw benefits. The letter confirmed she'd requested a one-time transfer of more than $11,000 from her SSA account. The couple said they were perplexed because both previously had taken my advice and registered accounts with MySocialSecurity, even though Ruth had not yet chosen to start receiving SSA benefits.
Sure enough, when Ruth logged into her MySocialSecurity account online, there was a pending $11,665 withdrawal destined to be deposited into a Green Dot prepaid debit card account (funds deposited onto a Green Dot card can be spent like cash at any store that accepts credit or debit cards). The $11,655 amount was available for a one-time transfer because it was intended to retroactively cover monthly retirement payments back to her 65th birthday.
The letter the Eckensteins received from the SSA indicated that the benefits had been requested over the phone, meaning the crook(s) had called the SSA pretending to be Ruth and supplied them with enough information about her to enroll her to begin receiving benefits. Ed said he and his wife immediately called the SSA to notify them of fraudulent enrollment and pending withdrawal, and they were instructed to appear in person at an SSA office in Oklahoma City.
The SSA ultimately put a hold on the fraudulent $11,665 transfer, but Ed said it took more than four hours at the SSA office to sort it all out. Mr. Eckenstein said the agency also informed them that the thieves had signed his wife up for disability payments. In addition, her profile at the SSA had been changed to include a phone number in the 786 area code (Miami, Fla.).
"They didn't change the physical address perhaps thinking that would trigger a letter to be sent to us," Ed explained.
Thankfully, the SSA sent a letter anyway. Ed said many additional hours spent researching the matter with SSA personnel revealed that in order to open the claim on Ruth's retirement benefits, the thieves had to supply the SSA with a short list of static identifiers about her, including her birthday, place of birth, mother's maiden name, current address and phone number.
Unfortunately, most (if not all) of this data is available on a broad swath of the American populace for free online (think Zillow, Ancestry.com, Facebook, etc.) or else for sale in the cybercrime underground for about the cost of a latte at Starbucks.
The Eckensteins thought the matter had been resolved until Jan. 14, when Ruth received a 1099 form from the SSA indicating they'd reported to the IRS that she had in fact received an $11,665 payment.
"We've emailed our tax guy for guidance on how to deal with this on our taxes," Mr. Eckenstein wrote in an email to KrebsOnSecurity. "My wife logged into SSA portal and there was a note indicating that corrected/updated 1099s would be available at the end of the month. She's not sure whether that message was specific to her or whether everyone's seeing that."
NOT SMALL IF IT HAPPENS TO YOU
Identity thieves have been exploiting authentication weaknesses to divert retirement account funds almost since the SSA launched its portal eight years ago. But the crime really picked up in 2013, around the same time KrebsOnSecurity first began warning readers to register their own accounts at the MySSA portal. That uptick coincided with a move by the U.S. Treasury to start requiring that all beneficiaries receive payments through direct deposit (though the SSA says paper checks are still available to some beneficiaries under limited circumstances).
More than 34 million Americans now conduct business with the Social Security Administration (SSA) online. A story this week from Reuters says the SSA doesn't track data on the prevalence of identity theft. Nevertheless, the agency assured the news outlet that its anti-fraud efforts have made the problem "very rare."
But Reuters notes that a 2015 investigation by the SSA's Office of Inspector General investigation identified more than 30,000 suspicious MySSA registrations, and more than 58,000 allegations of fraud related to MySSA accounts from February 2013 to February 2016.
"Those figures are small in the context of overall MySSA activity – but it will not seem small if it happens to you," writes Mark Miller for Reuters.
The SSA has not yet responded to a request for comment.
Ed and Ruth's experience notwithstanding, it's still a good idea to set up a MySSA account — particularly if you or your spouse will be eligible to withdraw benefits soon. The agency has been trying to beef up online authentication for citizens logging into its MySSA portal. Last summer the SSA began requiring all users to enter a username and password in addition to a one-time security code sent their email or phone, although as previously reported here that authentication process could be far more robust.
The Reuters story reminds readers to periodically use the MySSA portal to check and make sure that your personal information – such as date of birth and mailing address – are correct. "For current beneficiaries, if you notice that a monthly payment has not arrived, you should notify the SSA immediately via the agency's toll-free line (1-800-772-1213) or at your local field office," Miller advised. "In most cases, the SSA will make you whole if the theft is reported quickly."
Another option is to use the SSA's "Block Electronic Access" feature, which blocks any automatic telephone or online access to your Social Security record – including by you (although it's unclear if blocking access this way would have stopped ID thieves who manage to speak with a live SSA representative). To restore electronic access, you'll need to contact the Social Security Administration and provide proof of your identity.
Alphabet Inc., the parent company of Google, said today it is in the process of rolling out a new service designed to help companies more quickly make sense of and act on the mountains of threat data produced each day by cybersecurity tools.
Countless organizations rely on a hodgepodge of security software, hardware and services to find and detect cybersecurity intrusions before an incursion by malicious software or hackers has the chance to metastasize into a full-blown data breach.
The problem is that the sheer volume of data produced by these tools is staggering and increasing each day, meaning already-stretched IT staff often miss key signs of an intrusion until it's too late.
Enter "Chronicle," a nascent platform that graduated from the tech giant's "X" division, which is a separate entity tasked with tackling hard-to-solve problems with an eye toward leveraging the company's core strengths: Massive data analytics and storage capabilities, machine learning and custom search capabilities.
"We want to 10x the speed and impact of security teams' work by making it much easier, faster and more cost-effective for them to capture and analyze security signals that have previously been too difficult and expensive to find," wrote Stephen Gillett, CEO of the new venture.
Few details have been released yet about how exactly Chronicle will work, although the company did say it would draw in part on data from VirusTotal, a free service acquired by Google in 2012 that allows users to scan suspicious files against dozens of commercial antivirus tools simultaneously.
Gillett said his division is already trialing the service with several Fortune 500 firms to test the preview release of Chronicle, but the company declined to name any of those participating.
ANALYSIS
It's not terribly clear from Gillett's post or another blog post from Alphabet's X division by Astro Teller how exactly Chronicle will differentiate itself in such a crowded market for cybersecurity offerings. But it's worth considering the impact that VirusTotal has had over the years.
Currently, VirusTotal handles approximately one million submissions each day. The results of each submission get shared back with the entire community of antivirus vendors who lend their tools to the service — which allows each vendor to benefit by adding malware signatures for new variants that their tools missed but that a preponderance of other tools flagged as malicious.
Naturally, cybercriminals have responded by creating their own criminal versions of VirusTotal: So-called "no distribute" scanners. These services cater to malware authors, and use the same stable of antivirus tools, except they prevent these tools from phoning home to the antivirus companies about new, unknown variants.
On balance, it's difficult to know whether the benefit that antivirus companies — and by extension their customers — gain by partnering with VirusTotal outweighs the mayhem enabled by these no-distribute scanners. But it seems clear that VirusTotal has helped antivirus companies and their customers do a better job focusing on threats that really matter, as opposed to chasing after (or cleaning up after) so-called "false positives," — benign files that erroneously get flagged as malicious.
And this is precisely the signal-to-noise challenge created by the proliferation of security tools used in a typical organization today: How to spend more of your scarce cybersecurity workforce, budget and time identifying and stopping the threats that matter and less time sifting through noisy but otherwise time-wasting alerts triggered by non-threats.
I'm not a big listener of podcasts, but I do find myself increasingly making time to listen to Risky Business, a podcast produced by Australian cybersecurity journalist Patrick Gray. Responding to today's announcement on Chronicle, Gray said he likewise had few details about it but was looking forward to learning more.
"Google has so much data and so many amazing internal resources that my gut reaction is to think this new company could be a meteor aimed at planet Threat Intel™️," Gray quipped on Twitter, referring to the burgeoning industry of companies competing to help companies trying to identify new threats and attack trends. "Imagine if other companies spin out their tools…Netflix, Amazon, Facebook etc. That could be a fundamentally reshaped industry."
Well said. I also look forward to hearing more about how Chronicle works and, more importantly, if it works.
Full disclosure: Since September 2016, KrebsOnSecurity has received protection against massive online attacks from Project Shield, a free anti-distributed denial-of-service (DDoS) offering provided by Jigsaw — another subsidiary of Google's parent company. Project Shield provides DDoS protection for news, human rights, and elections monitoring Web sites.
In December 2017, the U.S. Department of Justice announced indictments and guilty pleas by three men in the United States responsible for creating and using Mirai, a malware strain that enslaves poorly-secured "Internet of Things" or IoT devices like security cameras and digital video recorders for use in large-scale cyberattacks.
The FBI and the DOJ had help in their investigation from many security experts, but this post focuses on one expert whose research into the Dark Web and its various malefactors was especially useful in that case. Allison Nixon is director of security research at Flashpoint, a cyber intelligence firm based in New York City. Nixon spoke with KrebsOnSecurity at length about her perspectives on IoT security and the vital role of law enforcement in this fight.
Brian Krebs (BK): Where are we today with respect to IoT security? Are we better off than were a year ago, or is the problem only worse?
Allison Nixon (AN): In some aspects we're better off. The arrests that happened over the last year in the DDoS space, I would call that a good start, but we're not out of the woods yet and we're nowhere near the end of anything.
BK: Why not?
AN: Ultimately, what's going with these IoT botnets is crime. People are talking about these cybersecurity problems — problems with the devices, etc. — but at the end of the day it's crime and private citizens don't have the power to make these bad actors stop.
BK: Certainly security professionals like yourself and others can be diligent about tracking the worst actors and the crime machines they're using, and in reporting those systems when it's advantageous to do so?
AN: That's a fair argument. I can send abuse complaints to servers being used maliciously. And people can write articles that name individuals. However, it's still a limited kind of impact. I've seen people get named in public and instead of stopping, what they do is improve their opsec [operational security measures] and keep doing the same thing but just sneakier. In the private sector, we can frustrate things, but we can't actually stop them in the permanent, sanctioned way that law enforcement can. We don't really have that kind of control.
BK: How are we not better off?
AN: I would say that as time progresses, the community that practices DDoS and malicious hacking and these pointless destructive attacks get more technically proficient when they're executing attacks, and they just become a more difficult adversary.
BK: A more difficult adversary?
AN: Well, if you look at the individuals that were the subject of the announcement this month, and you look in their past, you can see they've been active in the hacking community of a long time. Litespeed [the nickname used by Josiah White, one of the men who pleaded guilty to authoring Mirai] has been credited with lots of code.  He's had years to develop and as far as I could tell he didn't stop doing criminal activity until he got picked up by law enforcement.
BK: It seems to me that the Mirai authors probably would not have been caught had they never released the source code for their malware. They said they were doing so because multiple law enforcement agencies and security researchers were hot on their trail and they didn't want to be the only ones holding the source code when the cops showed up at their door. But if that was really their goal in releasing it, doing so seems to have had the exact opposite effect. What's your take on that?
AN: You are absolutely, 100 million percent correct. If they just shut everything down and left, they'd be fine now. The fact that they dumped the source was a tipping point of sorts. The damages they caused at that time were massive, but when they dumped the source code the amount of damage their actions contributed to ballooned [due to the proliferation of copycat Mirai botnets]. The charges against them specified their actions in infecting the machines they controlled, but when it comes to what interested researchers in the private sector, the moment they dumped the source code — that's the most harmful act they did out of the entire thing.
BK: Do you believe their claimed reason for releasing the code?
AN: I believe it. They claimed they released it because they wanted to hamper investigative efforts to find them. The problem is that not only is it incorrect, it also doesn't take into account the researchers on the other end of the spectrum who have to pick from many targets to spend their time looking at. Releasing the source code changed that dramatically. It was like catnip to researchers, and was just a new thing for researchers to look at and play with and wonder who wrote it.
If they really wanted to stay off law enforcement's radar, they would be as low profile as they could and not be interesting. But they did everything wrong: They dumped the source code and attacked a security researcher using tools that are interesting to security researchers. That's like attacking a dog with a steak. I'm going to wave this big juicy steak at a dog and that will teach him. They made every single mistake in the book.
BK: What do you think it is about these guys that leads them to this kind of behavior? Is it just a kind of inertia that inexorably leads them down a slippery slope if they don't have some kind of intervention?
AN: These people go down a life path that does not lead them to a legitimate livelihood. They keep doing this and get better at it and they start to do these things that really can threaten the Internet as a whole. In the case of these DDoS botnets, it's worrying that these individuals are allowed to go this deep before law enforcement catches them.
BK: There was a narrative that got a lot of play recently, and it was spun by a self-described Internet vigilante who calls himself "the Janitor." He claimed to have been finding zero-day exploits in IoT devices so that he could shut down insecure IoT things that can't really be secured before or maybe even after they have been compromised by IoT threats like Mirai. The Janitor says he released a bunch of his code because he's tired of being the unrecognized superhero that he is, and many in the media seem to have eaten this up and taken his manifesto as gospel. What's your take on the Janitor, and his so-called "bricker bot" project?
AN: I have to think about how to choose my words, because I don't want to give anyone bad ideas. But one thing to keep in mind is that his method of bricking IoT devices doesn't work, and it potentially makes the problem worse.
BK: What do you mean exactly?
AN: The reason is sometimes IoT malware like Mirai will try to close the door behind it, by crashing the telnet process that was used to infect the device [after the malware is successfully installed]. This can block other telnet-based malware from getting on the machine. And there's a lot of this type of King of the Hill stuff going on in the IoT ecosystem right now.
But what [this bricker bot] malware does is a lot times it reboots a machine, and when the device is in that state the vulnerable telnet service goes back up. It used to be a lot of devices were infected with the very first Mirai, and when the [control center] for that botnet went down they were orphaned. We had a bunch of Mirai infections phoning home to nowhere. So there's a real risk of taking the machine that was in the this weird state and making it vulnerable again.
BK: Hrm. That's a very different story from the one told by the Bricker bot author. According to him, he spent several years of his life saving the world from certain doom at the hands of IoT devices. He even took credit for foiling the Mirai attacks on Deutsche Telekom. Could this just be a case of researcher exaggerating his accomplishments? Do you think his Bricker bot code ever really spread that far?
AN: I don't have any evidence that there was mass exploitation by Bricker bot. I know his code was published. But when I talk to anyone running an IoT honeypot [a collection of virtual or vulnerable IoT devices designed to attract and record novel attacks against the devices] they have never seen it. The consensus is that regardless of peoples' opinion on it we haven't seen it in our honeypots. And considering the diversity of IoT honeypots out there today, if it was out there in real life we would have seen it by now.
BK: A lot of people believe that we're focusing on the wrong solutions to IoT security — that having consumers lock down IoT devices security-wise or expecting law enforcement agencies to fix this problem for us for me are pollyannish ideas that in any case don't address the root cause: Which is that there are a lot of companies producing crap IoT products that have virtually no security. What's your take?
AN: The way I approach this problem is I see law enforcement as the ultimate end goal for all of these efforts. When I look at the IoT DDoS activity and the actual human beings doing this, the vast majority of Mirai attacks, attack infrastructure, malware variants and new exploits are coming from a vast minority of people doing this. That said, the way I perceive the underground ecosystem is probably different than the way most people perceive it.
BK: What's the popular perception, do you think?
AN: It's that, "Oh hey, one guy got arrested, great, but another guy will just take his place." People compare it to a drug dealer on the street corner, but I don't think that's accurate in this case. The difference is when you're looking at advanced criminal hacking campaigns, there's not usually a replacement person waiting in the wings. These are incredibly deep skills developed over years. The people doing innovations in DDoS attacks and those who are driving the field forward are actually very few. So when you can ID them and attach behavior to the perpetrator, you realize there's only a dozen people I need to care about and the world suddenly becomes a lot smaller.
BK: So do you think the efforts to force manufacturers to harden their products are a waste of time?
AN: I want to make it clear that all these different ways to tackle the problem…I don't want to say one is more important than the other. I just happened to be working on one component of it. There's definitely a lot of disagreement on this. I totally recognize this as a legitimate approach. A lot of people think the way forward is to focus on making sure the devices are secure. And there are efforts ongoing to help device manufacturers create more secure devices that are more resistant to these efforts.
And a lot is changing, although slowly. Do you remember way back when you bought a Wi-Fi router and it was open by default? Because the end user was obligated to change the default password, we had open Wi-Fi networks everywhere. As years passed, many manufacturers started making them more secure. For example, many of these devices now have customers refer to sticker on the machine that has a unique Wi-Fi password. That type of shift may be an example of what we can see in the future of IoT security.
BK: In the wake of the huge attacks from Mirai in 2016 and 2017, several lawmakers have proposed solutions. What do you think of the idea that it doesn't matter what laws we pass in the United States that might require more security by IoT makers, that those makers are just going to keep on ignoring best practices when it comes to security?
AN: It's easy to get cynical about this and a lot of people definitely feel like these these companies don't sell directly to the U.S. and therefore don't care about such efforts. Maybe in the short term that might be true, but in the long term I think it ends up biting them if they continue to not care.
Ultimately, these things just catch up with you if you have a reputation for making a poor product. What if you had a reputation for making a device that if you put it on the Internet it would reboot every five minutes because it's getting attacked? Even if we did enact security requirements for IoT that manufacturers not in the U.S. wouldn't have to follow, it would still in their best interests to care, because they are going to care sooner or later.
BK: I was on a Justice Department conference call with other journalists on the day they announced the Mirai author arrests and guilty pleas, and someone asked why this case was prosecuted out of Alaska. The answer that came back was that a great many of the machines infected with Mirai were in Alaska. But it seems more likely that it was because there was an FBI agent there who decided this was an important case but who actually had a very difficult time finding enough infected systems to reach the threshold needed to prosecute the case. What's your read on that?
AN: I think that this case is probably going to set precedent in terms of the procedures and processes used to go after cybercrime. I'm sure you finished reading The Wired article about the Alaska investigation into Mirai: It goes in to detail about some of the difficult things that the Alaska FBI field office had to do to satisfy the legal requirements to take the case. Just to prove they had jurisdiction, they had to find a certain number of infected machines in Alaska.
Those were not easy to find, and in fact the FBI traveled far and wide in order to find these machines in Alaska. There are all kinds of barriers big and small that slow down the legal process for prosecuting cases like this, some of which are legitimate and some that I think are going to end up being streamlined after a case like this. And every time a successful case like this goes through [to a guilty plea], it makes it more possible for future cases to succeed.
This one group [that was the subject of the Mirai investigation] was the worst of the worst in this problem area. And right now it's a huge victory for law enforcement to take down one group that is the worst of the worst in one problem area. Hopefully, it will lead to the takedown of many groups causing damage and harming people.
But the concept that in order for cybercriminals to get law enforcement attention they need to make international headlines and cause massive damage needs to change. Most cybercriminals probably think that what they're doing nobody is going to notice, and in a sense they're correct because there is so much obvious criminal activity blatantly connected to specific individuals. And that needs to change.
BK: Is there anything we didn't talk about related to IoT security, the law enforcement investigations into Mirai, or anything else you'd like to add?
AN: I want to extend my gratitude to the people in the security industry and network operator community who recognized the gravity of this threat early on. There are a lot of people who were not named [in the stories and law enforcement press releases about the Mirai arrests], and want to say thank you for all the help. This couldn't have happened without you.